Frat House of the Dead
by J.K. Walker
My rating: 5 stars
Series: Salt Lake After Dark - Novella
Publication Date: January 14, 2014
Publisher: J. K. Walker
Genre: Paranormal Fantasy
Print Length: 68 pages
Available from:
Amazon
|
Barnes & Noble
Synopsis:
Rachel Wood has lead a sheltered life. Sure she's a witch, with a talent for technology, but she just doesn't get out much. Halloween night, that all changes when her best friend invites her to a frat party. After someone spikes the punch with an unknown spell, Rachel must devise a magical solution before her and her friends are overwhelmed by... Zombies!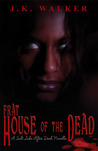 My Review

Frat House of the Dead

by J. K. Walker My Rating: 5 Stars

Who would ever think a Zombie attack could be funny or fun or a little crazy? Hey, its Halloween, there's a party, Jazz and her friends are going, but someone spikes the punch with a spell and the results bring a whole new meaning to the term party animals!!

Frat House of the Dead

by J. K. Walker is like a little slice of life from the Salt Lake After Dark Series with a quick pace, great humorous touches, some girl attitude and a little magic. This is a great way to test the waters for this series as the main characters go partying with surprising results.

J. K. Walker has a special style, a little quirky, a little unique and cleverly done. Never been a big fan of zombies? I bet J. K. Walker could change your mind.