Black Water
Written by: Faith Hunter
Series: Jane Yellowrock
Sequence in Series: # 6.3, 6.4, 6.5)
Print Length: 113 pages
Rating: 4 stars
Publisher: InterMix
Publication Date: September 16, 2014
Genre: Urban Fantasy
Find this book on:
Amazon
|
Barnes & Noble
Synopsis:
Three stories from New York Times bestselling author Faith Hunter, starring shapeshifting skinwalker Jane Yellowrock.
In Snafu, a young Jane shows up for her internship with a securities firm. But before she even gets her foot in the door, she's accosted by two street toughs and is forced to draw on her new-found Beast-magic to defend herself…
In Black Water, Jane encounters a dire situation involving an escaped prisoner and endangered hostages. With a helpful—and oddly sane—werewolf, Jane goes after the criminals, but can she stop them in time to bring the kidnapped women home alive?
In Off the Grid, Jane goes on what looks like a simple mission for the Knoxville blood-master—finding a missing Mithran. Her search leads Jane to a young woman named Nell, a woman with a scarred past and a strange power, a woman who may hold the key to saving the missing vampire, if Jane can convince her to assist.
Includes an exclusive preview of the Jane Yellowrock novel, Broken Soul, coming October 2014 from Roc!
Snafu and Off the Grid are never before published. The story Black Water was previously published as an Audible Audio Edition.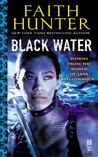 My Review:
Black Water
by Faith Hunter
Black Water
is three novella length stories of Jane Yellowrock's adventures.
Each story takes place during a different time in her life. One story is 18 year old Jane just starting out. Another story takes place when she is still realizing the extent of her abilities tracking down a vile, escaped prisoner. The final story takes place right before the vampire delegation arrives from Europe.
If you are a fan, you'll love the insight into Jane. If you never read any of the Yellowrock series: 1. what are you waiting for and 2. this is a great way to introduce yourself to the character and get a feel for the series.
I'm a fan and really enjoyed this quick, enjoyable, action packed stories to hold me over till the next book comes out.