Charming the Beast
Written by: Cynthia Eden
Series: Purgatory
Sequence of Series: 3
Print Length: 206 pages
Rating: 4 Stars
Publisher: Hocus Pocus Publishing, Inc.
Publication Date: October 23, 2014
Find this book on:
Amazon
|
Barnes & Noble
New York Times and USA Today best-selling author Cynthia Eden spins a dark and sexy new paranormal romance tale…
He's a man with a beast inside…
Connor Marrok never intended to work for the Seattle Para Unit. He's not one of the good guys—he's a real monster, and the beast he carries doesn't exactly play nicely. But now he finds himself being blackmailed into a new assignment. It's supposed to be his last gig. His mission? Protect the beautiful Chloe Quick. Keep her alive. Destroy her enemies. Easy enough…until he starts to fall for Chloe.
She just wants to escape.
Chloe is tired of being a prisoner. She wants to get away from her Para Unit guard and run fast into the night. So what if Connor is the sexiest guy she's ever met? Chloe knows trouble when she sees it, and Connor is one big, dangerous package of trouble. But, when an obsessed werewolf begins stalking Chloe, she realizes that her paranormal bodyguard may just be the one man she needs the most.
Their attraction is primal.
Every moment that Chloe and Connor spend together increases their attraction. Chloe has never felt a need so strong or a desire so dark. The beast that Chloe carries inside has always been silent, but Connor is stirring up her animal instincts. And as the danger and desire begin to twist together, Chloe wonders just how far she'd be willing to go…in order to spend one more night in Connor's arms.
CHARMING THE BEAST – Book 3 in the Purgatory Series
The PURGATORY Series: THE WOLF WITHIN – Book One MARKED BY THE VAMPIRE – Book Two CHARMING THE BEAST – Book Three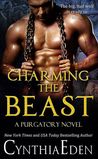 My Review:
Charming the Beast
by Cynthia Eden
Charming the Beast
is a phenomenal dark fantasy that pulls you right into Eden's paranormal Purgatory series.
Chloe Quick is being held by Seattle's Para Unit after she is killed and returns from the dead. Her guard, the sexy Connor Marrok, a new member of the Para Unit.
While chemistry explodes between them, Chloe and Connor fight for their lives while trying to uncover Chloe's unusual paranormal abilities.
Charming the Beast
provides a great balance between romance, action and a truly meaty plot which only enhances an already perfectly paced storytelling.
Eden's writing is fast becoming one of my favorite paranormal romance storylines to follow.
If you are looking a fast paced paranormal romance, check out
Charming the Beast
.
I can't leave without mentioning 2 thumbs up for this outstanding cover...
I received this ARC copy of
Charming the Beast
from Hocus Pocus Publishing, Inc. in exchange for a honest review. This book is set for publication October 23, 2014.