Heart of a Rocky
by Kelsey Jordan
My rating: 4 stars
Series: Gardinian World - Book 2
Publication Date: October 15, 2014
Publisher: Booktrope
Genre: Adult Paranormal Romance/Intrigue
Print Length: 196 pages
Available from:
Amazon
|
Barnes & Noble
Synopsis:
The Takeover
Tor Omar James, King of the North African pride, needs one woman if he has any hope of keeping his sanity – Anise, his Soul's Mate. There's only one problem: she's pregnant by Derrick, Tor of the United States pride. Anise is caught between the love that every Lycan covets and the motherly devotion to the son she would sacrifice so much for. Can Omar survive the takeover of the US pride and convince Anise that he is more man than lion?

The Defender
Asim Tyson, the Defender of the Hafiz, is fighting off the insanity of his longing after losing his Soul's Mate in battle. Unfortunately, his self-centered existence results in the gross neglect of his people when they need him the most. When Harmony appears in his life, he is forced to make a choice. Should he resist the lure of Harmony's caustic melody or embrace his weakness in order to keep her safe?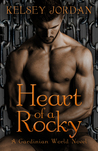 My Review
Heart of a Rocky

by Kelsey Jordan
One Book, two novellas packed inside! Kelsey Jordan gives us two stories in one in her latest entry into the paranormal genre,
Heart of a Rocky
. Thankfully, she has NOT skimped on imagination, romance or suspense!
Welcome back to the Gardinian World. Novella one, THE TAKEOVER, puts Omar under the spotlight as he sees his soul's mate in Anise, a woman abused by the leader of the U.S. pack, pregnant with his offspring and terrified of trusting anyone to treat her and her child better. How can Omar teach her to believe in their bond, to trust he would only honor her? How can he stake his claim on her? In the tradition of their world, there must be a battle to the death and Omar is ready to take Derrick. Can he win this battle only to have to fight another with Anise?
Second up is THE DEFENDER. Tyson lost his soul's mate in battle, years before and it's only by sheer will and the grace of the gods that he has survived, not that he is a pleasant person to be around. Harmony has led her life as a captive, brutalized, beaten, and stripped of any sense of self-respect. They react to each other like fire and water, each always either inflaming the other or dousing whatever chance they have at civility. Will nature's cycle bring them to blows or can they find a meeting point to align their lives?
Once again, Kelsey Jordan has brought her Gardinian world back to life, expanding its characters roster and taking a look into the lives of even more of its occupants. With all of the drama and emotional intrigue in each novella, perhaps making each a fully grown novel would have been too much to take! From the brutality that exists to the humor that can be found, there is always room for a hero and heroine to root for, even the overly pigheaded ones, who made it difficult at times!
I received a review copy from the author in exchange for my honest review.