Light My Fire
Written by: G. A. Aiken
Series: Dragonkin
Sequence in Series: 7
Page Count: 496 pages
Publisher: Zebra
Publication Date: November 25, 2014
Rating: 5 Stars
ISBN-10: 1420131591
ISBN-13: 978-1420131598
Genre: Paranormal | Romance
Find this book on:
Amazon
|
Barnes & Noble
The trouble with humans is that they're far too sensitive. Forget you put a woman in the local jail for a few months--and she takes it so personally! And yet she is the one trying to assassinate the queen. And now I'm trapped with Elina Shestakova of the Black Bear Riders of the Midnight…gods! That endless name! But what am I to do? I am Celyn the Charming with direct orders from my queen to protect this unforgiving female.
Even more shocking, this unforgiving female is completely unimpressed by me. How is that even possible? But I know what I want and, for the moment, I want her. And I'm sure that she, like all females, will learn to adore me. How could she not when I am just so damn charming?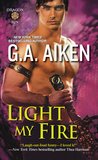 My Review:
Light My Fire
by G.A. Aiken
Aiken's brilliant and hysterical writing style shines through in
Light My Fire
.
Celyn the Charming was given one simple task…watch over the human that tried to assassinate the queen of the dragons. Locking her away in a cell was not what they had in mind, but forgetting about her for months on end was definitely not in the plan. Luckily the reluctant assassin, Elina was very resourceful.
When trouble comes from the south, the queen orders Celyn and Elina to work together to make an unlikely truce… Passion and dislike flows both ways between Celyn and Elina, creating quite an interesting make up. Will Celyn's charm shine through or will Elina squash it before they discover what a formidable team they truly are?
Aiken is known for her highly complex plots and outrageously funny histrionics…I think
Light My Fire
might just take the level up a few notches. And I LOVED IT! I found myself laughing out loud and cheering on both Elina and Celyn.
The past character interaction was MARVELOUS! It brings the familiar back into this new storyline and kept me emotionally invested on every word. Yes, even though there is tons of funny, Aiken brilliantly sucks you into this magical world and makes you utterly invested in the plight of her characters.
I flat out love this series and this author, whether she writes as G.A. Aiken or Shelly Laurenston, I find her work masterfully written; giving you the perfect balance of humor and drama with a heavy dose of steamin' hot romance and action on the side.
I always have a serious book hang over when I finish one of Aiken's works...she leaves me wanting more every time.
I received this ARC copy of
Light My Fire
from Kensington Books - Zebra in exchange for a honest review. This book is set for publication November 25, 2014.