The After House
by Michael Phillip Cash
My rating: 5 stars
Publication Date: October 12, 2014
Publisher: Red Feather Publishing
Genre: Romantic Intrigue, Paranormal
Print Length: 154 pages
Available from:
Amazon
Synopsis:
Remy Galway and her daughter Olivia are rebuilding their life after a failed marriage in a 300 year old cottage in historic Cold Spring Harbor, Long Island. Little do they know, another occupant is lurking in the haven of their own home. Will the After House be their shelter or their tomb?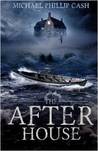 My Review
The After House

by Michael Phillip Cash
Once again, I saw the words "By Michael Phillip Cash" and I had to read it! I am so glad I did because I was taken across genres, from suspense to the paranormal to romance and even into humor!
The After House
has it all, including a rather fascinating ghost with a few childish tendencies and a child who knows how to deal with things that go bump in the night!
When an emotionally defeated young divorcee comes to an old whaling town on Long Island with her young daughter, they discover their historic home holds more than the memories and charm of an era long gone. The resident ghost goes about "frightening" them with all the zeal of a child having a tantrum, which indicates he never read "Ghosting: 101," but could probably use a good anger management class.
As if that's not enough, her meddling mother sets her up with a charming suitor who she literally bumps heads with. But wait, Remy appears to be the object of some unknown evil who is after more than merely scaring her and our swarthy Sea Captain isn't too pleased.
What can I say, the wheels of imagination and storytelling are running full out for Michael Phillip Cash, once again! Mr. Cash has created another hit with his "hauntingly" creative style, which is pure "Cash." His characters come off the pages and jump right into your mind and heart. Villains are villains, the good guys may not wear white hats, but they are perfectly delightful. And Remy's daughter? Priceless, simply priceless, I see a future ghost tamer in the making!
Looking for a ghost story for all ages that won't have you cowering under the sheets or give you nightmares about walking the plank?
The After House
is it!