Blamed
by Edie Harris
My rating: 5 stars
Series: Blood Money - Book 1
Publication Date: November 3, 2014
Publisher: Carina Press
Genre: Adult Romantic Suspense
Print Length: 210 pages
Available from:
Amazon
|
Barnes & Noble
Synopsis:
Born into a long line of spies, sanctioned killers and covert weapons developers, Beth Faraday carried out her first hit-for-hire when she was still a teenager.

That part of her life—the American spy royalty part—ended one year ago, with a job gone wrong in Afghanistan. The collateral damage she caused with a single shot was unfathomable and, for Beth, unforgivable. She's worked hard to build a new life for herself, far away from the family business.

But someone, somewhere, hasn't forgotten what Beth did in Kabul. And they want revenge.

As the Faraday clan bands together to defend Beth and protect their legacy, Beth is forced to flee her new home with the unlikeliest of allies—MI6 agent Raleigh Vick, the only man she's ever loved. And the one she thought she'd killed in the desert.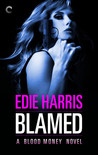 My Review
Blamed

by Edie Harris
Have you or someone you've known ever gone into the family business? What if your family's legacy was to be a spy or maybe an assassin or a weapons developer? Are you cut out for a career like that? Beth entered the family business as a teen, but after a deadly disaster in the Middle East, she packed up and decided she was done, out of the family business. But is that really possible? Someone may have revenge in mind.
Part of Beth's past comes walking out of the shadows, a man she thought she had killed a year before. In a game of spy versus spy versus death, an agent of M16, Raleigh Vick becomes her greatest and most unlikely ally. Not only do they have a tenuous truce to hold, but Beth is in danger of dying of a broken heart long before a bullet can touch her. Raleigh is the only man she has ever loved, and their previous times together were always while each was on an "assignment." Is she in love with a facade or the real man beneath the mask?Together again, the heat turns into a raging fire, but can they trust each other enough to stay alive?
Blamed
by Edie Harris is electric with intrigue, sizzling romance and danger at every turn! The game of espionage comes to life, as she wields her remarkable pen! Both main characters are tough as nails, but inside, Beth is full of regrets and insecurity, feeling unworthy of Raleigh's attentions, but she'll take what she can get until her time runs out. Raleigh, a man of many disguises and names is strong, yet vulnerable to anything Beth. Beth's family? Certainly unique, yet loyal in this dark game of cat and mouse played across the globe.
From page one, Ms. Harris sets an edgy stage, dark, with a veiled future, then proceeds to peel back each layer slowly, tantalizing her readers with her crisp style and no-nonsense writing. Fans of spy drama, intrigue and hidden secrets, heated up with scorching sensual scenes are going to find a new series to follow after reading
Blamed
.
I received an ARC edition in exchange for my honest review.