The Highland Dragon's Lady
Written by: Isabel Cooper
Series: Highland Dragons
Sequence in Series: Book 2
Page Count: 384 pages
Publisher: Sourcebooks Casablanca
Publication Date: December 2, 2014
Rating: 3 Stars
ISBN-10: 1402284705
ISBN-13: 978-1402284700
Genre: Historical Romance - Paranormal
Find this book on:
Amazon
|
Barnes & Noble
Synopsis:
Regina Talbot-Jones has always known her rambling family home was haunted. She also knows her brother has invited one of his friends to attend an ill-conceived séance. She didn't count on that friend being so handsome...and she certainly didn't expect him to be a dragon.
Scottish Highlander Colin MacAlasdair has hidden his true nature for his entire life, but the moment he sets eyes on Regina, he knows he has to have her. In his hundreds of years, he's never met a woman who could understand him so thoroughly...or touch him so deeply. Bound by their mutual loneliness, drawn by the fire awakening inside of them, Colin and Regina must work together to defeat a vengeful spirit-and discover whether their growing love is powerful enough to defy convention.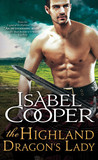 My Review
The Highland Dragon's Lady
by Isabel Cooper
Take one part dragon shifter, one part historical romance and one part paranormal occurrences and what do you have, a new story called
The Highland Dragon's Lady
.
One touch from Regina Talbot-Jones and the carefully constructed human façade of dragon shifter, Colin MacAlasdair, is blown to smithereens. Regina has a special ability to see visions of those she touches. When she touches her brother's best friend Colin, she immediately knows he's a dragon. Not frighten by intrigued this unique character, Regina, is draw to Colin.
A malicious spirit has taken residence in Regina's home, Colin and an uncommon assortment of characters are brought together to sort out the house haunting.
The story takes a very dark paranormal turn when the participants try to oust her from the house.
Isabel Cooper weaves a vividly described tale.
She has all the components for my perfect read but the heart of the story was lost on me. I enjoyed it, thought it was interesting but never connected or became invested in its outcome. I also needed a little more dragon in this dragon story, sadly Colin remains mostly human throughout.
I received this ARC copy of
The Highland Dragon's Lady
from SOURCEBOOKS Casablanca in exchanged for a honest review. This book is set for publication December 2, 2014.