Cursed by Ice
Written by: Jacquelyn Frank
Series: The Immortal Brothers
Sequence in Series: 2
Page Count: 352 pages
Publisher: Ballantine Books
Publication Date: March 31, 2015
Rating: 4 Stars
ISBN-10: 0553393413
ISBN-13: 978-0553393415
Genre: Fantasy | Paranormal Romance
Find this book on:
Amazon
|
Barnes & Noble
Synopsis:
From New York Times bestselling author Jacquelyn Frank comes the smoothly sensual second book in an exciting new series featuring four immortal warrior brothers who must stake their hearts against their fate.
As punishment for plotting with his brothers to steal immortality, Garreth is suffering a freezing torment until the end of time. Again and again, his fierce fighter's physique is frozen into a chiseled ice sculpture, his heart hardening like a diamond in his chest—only to thaw and resume the chilling torture. Until, like his older brother Dethan, he is offered a reprieve from a goddess—in exchange for his allegiance in a celestial civil war.
Garreth lives to fight and fights to live. But while laying siege to an embattled city, he finds another reason to go on—a beautiful warrior woman named Sarielle, who commands a mythic beast through a mysterious and powerful bond. Terrified of her strength, the city rulers have kept her captive, and now she refuses to submit to a new master. As Garreth seeks to unleash her passion and melt the icy resistance of her heart, will he become her ultimate salvation—or lead them both to greater destruction?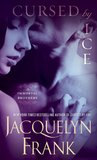 My Review:
Cursed by Ice
by Jacquelyn Frank
Garreth been cursed by the gods to freeze over and over again till the end of time. As a reprieve, a goddess offers him a boon; serve me by fighting for me in the war between the gods and I will only freeze you at night.
Sarielle was a slave in the city Garreth and his brother Dethan are trying to over throw for their goddess. Sarielle has a special bond with a wyren and is forced by the city rulers to use her wyren to protect the city.
When Garreth finally takes the city, Sarielle refuses to be a slave any longer. Its a battle of wills with a heavy dose of undeniable chemistry.
Secrets, betrayals and heartache keeps you dedicated to this plot.
Garreth is a great characters, extremely relatable...besides the freezing every night and being immortal and all.
Sarielle was wonderfully protective and showed an incredible amount of devotion to those she loves.
Ok, I wasn't a big fan of Dethan, his action made him a total asshat.
I was entertained, loved the wyren twist and completely pulled in by Sarielle's devotion to her sisters.
Delightfully enchanting,
Cursed by Ice
is sure to be a hit with paranormal romance fans.
I received this ARC copy of
Cursed by Ice
from Random House Publishing Group - Ballantine in exchange for a honest review. This book is set for publication March 31, 2015.