Rewriting Destiny:
Prequel to the Forsaken Sinners MC Series
by Shelly Morgan
My rating: 5 stars
Series - Forsaken Sinners MC Series - Prequel
Publication Date: February 19, 2015
Publisher: Shelly Morgan
Genre: Romantic Erotica | Contemporary
Print Length: 200 pages
Available from:
Amazon
Synopsis:
When life gives you lemons, it's time for shots of tequila. That's my new saying in life, and trust me, life handed me lots of lemons.
For eighteen years I took those lemons that life and "destiny" threw at me and made lemonade, but I'm no longer a naive girl. I was forced to grow up too fast and the one person I depended on turned his back on me. So now I say screw the lemonade and just give me a bottle of tequila, because I don't believe in destiny anymore.
There is no pre-designed path set out for each of us. Sometimes bad things happen, it's just a part of life. It sucks, but you have to pick yourself up and get on with your life. I'm done just sitting around and waiting for my life to change or something good to just fall in my lap. It took me awhile to understand, but once I was done being the doormat to destiny, it was time for me to take control. I would decide where I would go in life and what would happen. It wouldn't always be pretty, it would sometimes hurt like hell, but I would make sure I lived my life to the fullest.
It's time to rewrite destiny.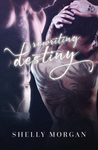 My Review

Rewriting Destiny

by Shelly Morgan

In a few words: BRILLIANT! BRUTAL! DEVASTATING! POWERFUL! INTENSE!

Rewriting Destiny

is all that and more, as DEBUT author Shelly Morgan opens her creative throttle wide open and blasts us into the world she has created. The hidden gem pile has just revealed blindingly bright read to treasure and a gifted author to follow.

Dani still remembers the day she met Zane and his older brother Zeke. From that day forward, Zeke became like a big brother and Zane became her best friend. When tragedy struck and a promise was broken, all Zane and Dani had were each other to console their shattered hearts. But teenaged Dani felt more than friendship toward Zane and was secretly sure he felt the same, until he went off to college and disappeared from her life after one brief but exquisite intimate moment they shared. Another tragedy brings Zane home from college with the plan that he could take better care of Dani and her dependence on him if she came back to school with him. Hopeful, Dani soon discovers Zane will not be there for her when she needs him most when he deserts her at a party to spend "quality" time with a buxom blonde. What happened to Dani that night is nothing short of heartbreaking, soul breaking and pure hell, and Zane had turned his back on her and she ran.

Fast forward several years, no longer the insecure girl, Dani has been educated in the school of hard knocks, but has found a home and family with a rough and tough motorcycle club who take her under their protection, like a sister. Now a tattoo shop owner, a new club pledge is being sent her way to get some ink. Enter Zane-and fate and destiny sit back laughing in her face. Her unrequited, soul deep love, her biggest heartbreak has returned. Now what, more pain, more humiliation or will the new and strong Danielle make their "re-connection" something Zane will never forget? Go Team Danielle;)

Looking for a sweet and soul-grabbing tale of second chances for love and redemption from a personal hell? Not going to find it, no hearts and flowers or slow-mo tripping through a field of flowers, that isn't Shelly Morgan's style. This author takes bold and earthy swipes at each page with fiercely strong characters, grueling and torturous scenes and in-your-face emotion. If this is what we can expect from Shelly Morgan, I'd say we are in for the ride of our lives and this was just the prequel to her series!

I received an ARC edition from the author in exchange for my honest review and suggest you mark February 19 on your MUST READ calendar!