Cursed by Ice
by Jacquelyn Frank
My rating: 4 stars
Series: The Immortal Brothers - Book 2
Publication Date: March 31, 2015
Publisher: Ballantine Books
Publication Date: March 31, 2015
ISBN-10: 0553393413
ISBN-13: 978-0553393415
Genre: Fantasy | Paranormal Romance
Print Length: 352 pages
Available from:
Amazon
|
Barnes & Noble
Synopsis:
As punishment for plotting with his brothers to steal immortality, Garreth is suffering a freezing torment until the end of time. Again and again, his fierce fighter's physique is frozen into a chiseled ice sculpture, his heart hardening like a diamond in his chest—only to thaw and resume the chilling torture. Until, like his older brother Dethan, he is offered a reprieve from a goddess—in exchange for his allegiance in a celestial civil war.

Garreth lives to fight and fights to live. But while laying siege to an embattled city, he finds another reason to go on—a beautiful warrior woman named Sarielle, who commands a mythic beast through a mysterious and powerful bond. Terrified of her strength, the city rulers have kept her captive, and now she refuses to submit to a new master. As Garreth seeks to unleash her passion and melt the icy resistance of her heart, will he become her ultimate salvation—or lead them both to greater destruction?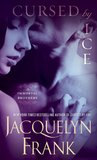 My Review
Cursed by Ice

by Jacquelyn Frank
As the youngest of the brothers who dared to defy the gods and seek out the secret to immortality, Garreth's punishment was to feel eternally cold, to be frozen and thawed out repeatedly, until the end of time. A deal made by one of his brothers sets him partially free, providing he does the bidding of the gods until his penance is complete. Until then, every night he would experience the torture of being frozen again. On a mission to conquer over realms, he comes upon a beautiful woman, who has the gift of communicating with a wyvern. Her master holds her heart hostage to do his bidding by keeping her twin sisters captive. Both of their worlds are lived as slaves to another, but the fierceness of Sarielle has Garreth longing for a life that includes more than being a warrior, but she cannot know his secret, of what he suffers every night. As Garreth brings out the independent spirit lying within this slave girl, he risks his own heart and his very life as they fall in love. As they learn to trust, they slowly open up about the secrets they carry, except for one, which may cost Garreth the woman of his dreams. Is love worth the risk of eternal torment or even death?
Jacquelyn Frank's
Cursed by Ice
brings out more of the story of the brothers who dared to go against the gods as she has created a world of magic, myth and fantasy is straddles the line between darkness and light. The tension of a new love grows slowly between two well-matched characters, and it feels right, good and sigh-worthy as this tale goes on.
I received this ARC edition from Random House Publishing Group - Ballantine in exchange for my honest review.