Dream of Me
by Quinn Loftis
My rating: 5 stars
Series: The Dream Makers - Book 1
Publication Date: February 28, 2015
Publisher: Quinn Loftis Books LLC
Genre: Young Adult Fantasy | Myths 13+
Print Length: 319 pages
Available from:
Amazon
|
Barnes & Noble
Synopsis:
"In the evening… [he] blows softly upon their necks, till their heads begin to droop. […] Under each arm he carries an umbrella; one of them, with pictures on the inside, he spreads over the good children, and then they dream the most beautiful stories the whole night." ~ Hans Christian Anderson

Since the dawn of time, Brudair, otherwise known as the Sandman to the world, has faithfully lived out his purpose, faithfully performed his duties. He has never questioned his lot among the immortals, until now, until her. Sarah Serenity Tillman, a consummate beauty both inside and out, is a high school senior five months from her graduation. She has great plans, dreams of leaving the small town of her childhood behind her forever. But destiny has other plans, and it's the Sandman's job to make sure those plans are fulfilled.

The tall muscular Sandman, known as Dair to his friends, dressed in black, wrapped in shadows, is more than a myth. And he has a job to do. His very existence makes him a creature of the night, because dreams, (yes the legends got that part right), were indeed his specialty. But his purpose was more than just weaving dreams for sleeping children. No, his dreams were made to influence, made to ensure that certain special individuals, those individuals who would change the course of history, actually accepted their chosen destiny.

Little does Serenity know that she is Dair's next assignment. And the dream that he weaves for her, if she follows its influence, will change the course of, not only her life, but possibly the whole of history as well. But she isn't the only one being influenced. The beauty inside of her was weighing on the Sandman, lighting up the darkness that was his constant companion. Her light was warmth, it was life, and he didn't understand how he had survived the previous millennia without it.

The Sandman was indeed greater than anything humans had ever imagined, and his purpose was vital to the course of history. So what happens when the weaver of dreams gets so distracted by a mere human that he ignores his own duties in the immortal realm? How can an immortal who was never meant to have a mate, join a young woman in her destiny without irrevocably changing the lives of millions and potentially altering history in a way the Creator never intended?

"Dream of me, Princess," Dair whispered into her ear.
"Then weave me a dream, Sandman," she said softly. "And we can dream together."
As her eyes grew heavy, she heard Dair's voice telling her to sleep, to open her mind to him and let him in. I'm all yours, she thought as sleep finally claimed her.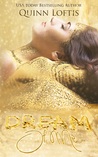 My Review
Dream of Me

by Quinn Loftis
Many of us grew up hearing the phrase, "Sweet Dreams" and heard all about the Sandman and the magical dust he casts to send dreams. What did you picture? A little guy kind of like an elf? Quinn Loftis' Sandman is a being who has been around since the creation of time, made by the Creator, himself. He is not angel, but he is well-known among them, even if he has always been a loner. But the night he met Serenity, he no longer wanted an existence alone. Some people are nice, some not, but Serenity has that special gift for caring and helping others, no matter the cost. The more Dair sees of her, the more he wants to know her, but, would it be breaking all the rules? Would she even be able to see him? Would she even like him?
When a brilliant young girl, whose life has had so much love and joy suddenly has her world devastated by the death of her parents and must move in with her less than savory aunt, Dair knows she needs protection and with the help of an angel, Serenity is placed directly in her path when young Emma needs her most. As Dair and Serenity find their attraction growing, Dair must come to terms with both his immortality and Serenity's totally mortal existence.
Will the creator allow them time together? How can they save young Emma from the nightmare she is living? There is something special about both Serenity and Emma and their futures are bound together, but only one may survive if the future is to come to pass and there is not enough magic in the Sandman's dust to change that.
Flat out, Quinn Loftis and her latest gem,
Dream of Me
is just one of those reads that feels like a dream, itself. Beautifully written from the heart of this author, there are moments of happiness, sorrow and love that had me smiling, knowing there really are good people like these characters in a world that has gotten too cold and cynical. Geared to younger readers, thirteen and up, it is a refreshing change to find an author who knows how to create age appropriate magic with her words and to remind us it is okay to believe in things like the Sandman, who just happens to be a handsome hero, and not a little gnome or elf! Low on angst, high on kindness, a great "feel good" read!
I received this copy from Quinn Loftis in exchange for my honest review.