House of Echoes
by Brendan Duffy
My rating: 4 stars
Publication Date: April 14, 2015
Publisher: Ballantine Books
ISBN: 9780804178112
Genre: Thriller|Suspense
Print Length: 402 pages
Available from:
Amazon
|
Barnes & Noble
Synopsis:
A young New York City couple with a boy and a baby in tow, Ben and Caroline Tierney had it all…until Ben's second novel missed the mark, Caroline lost her lucrative banking job, and something went wrong with 8-year-old Charlie. When Ben inherits land way upstate from his grandmother, the two of them began to believe in second chances. But upon arriving in Swannhaven, a town that seems to have been forgotten by time, they're beset by strange sights and disconcerting developments…and they begin to realize they might have made their worst mistake yet. But what dark secret is buried in this odd place? And will Ben and Caroline figure it out soon enough to save their young family?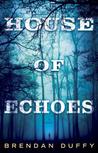 My Review
House of Echoes

by Brendan Duffy
In a genre that relies on a dark atmosphere, suspense, mystery and dark secrets from both the past and the present, Brendan Duffy's
House of Echoes
is a breath of fresh contemporary air. A young family of four already burdened with inner turmoil leaves the pressures of city life behind to re-create themselves in a quiet small town and a dilapidated old mansion. Little do they know their dream life will turn into a nightmare from Hell even as the good citizens of the town appear to offer kindness, a warm casserole and an otherworldly curse?
Ben and Caroline have turned the world as they know it on its heels when they decide that restoring an old mansion into a Bed & Breakfast is the perfect way to make a clean start, without the burdens of the past to overpower them. Small town stories and legends abound as they soon discover not only may their house be haunted, but woods around them may be a deathtrap to anyone who ventures near them is this Hell on Earth. Everyone has secrets, but what happens when they are exposed, deadly and aimed at your family?
Brendan Duffy has put the thrill back in thrillers as he weaves his tale of terror. Well-paced, filled with characters that just don't feel right (because they aren't), as well as characters who are completely unsuspecting (because they were) and the dark shadow in the woods. Everything as is not as it seems and Brendan Duffy will leave you looking over your shoulder and under your bed for days after reading this one!
I received an ARC edition from Random House Publishing Group - Ballantine in exchange for my honest review.