Twisted
Written by: Cynthia Eden
Series: LOST Series
Sequence in Series: 2
Page Count: 384 pages
Publisher: Avon
Publication Date: April 28, 2015
Rating: 4 Stars
ISBN-10: 0062349643
ISBN-13: 978-0062349644
Genre: Suspense, Mystery, Romance
Find this book on:
Amazon
|
Barnes & Noble
Synopsis:
In the second seductive LOST novel from New York Times bestselling author Cynthia Eden, an obsessed Last Option Search Team agent goes looking for trouble--and finds her in the Big Easy.
Dean Bannon comes to New Orleans for one reason only: to track down a missing sixteen-year-old girl. That's before he meets the drop-dead gorgeous con artist who makes him want to lose his legendary control.
With her past, Emma Castille doesn't claim to be psychic. She just notices things other people don't. Like the fear in a runaway's eyes--or the pain in an ex-FBI agent's heart. Her chemistry with Dean is blistering, but Emma follows her passion... not someone else's orders.
Then a madman breaks into Emma's home and leaves a twisted message: You're next. Now Dean refuses to let her out of his sight until he pries every last secret from her full, sexy lips. And suddenly Emma's aching to give him everything he wants.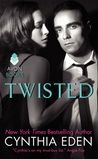 My Review:
Twisted
by Cynthia Eden
Twisted
provides a thrill ride of unexpected turns that will knock you breathless.
Dean Bannon, an agent of Last Option Search Team (LOST), heads to the New Orleans to track down a runaway only to come face to face with fortune teller, Emma Castille. She is his only lead on the runaway's where a bouts. Dean finds Emma just in time because she has just found herself in the sights of a serial killer's with a M.O. is scarily similar to the serial killer that drove Dean out of the FBI.
A delectable combination of mystery, thriller and romance with a touch of paranormal,
Twisted
was a page turner.
I received this ARC copy of
Twisted
from HarperCollins - Avon in exchange for a honest review. This book is set for publication April 28, 2015.