The Undying Legion
by Clay Griffith & Susan Griffith
My rating: 4 stars
Series: Crown & Key - Book 2
Publication Date: June 30, 2015
Publisher: Random House Publishing Group
ISBN-13: 9780345540492
Genre: Historical Urban Fantasy
Pages: 384
With a flood of dark magic about to engulf Victorian London, can a handful of heroes vanquish a legion of the undead?

When monster-hunter Malcolm MacFarlane comes across the gruesome aftermath of a ritual murder in a London church, he enlists the help of magician-scribe Simon Archer and alchemist extraordinaire Kate Anstruther. Studying the macabre scene, they struggle to understand obscure clues in the ancient Egyptian hieroglyphics carved into the victim's heart—as well as bizarre mystical allusions to the romantic poetry of William Blake. One thing is clear: Some very potent black magic is at work.

But this human sacrifice is only the first in a series of ritualized slayings. Desperate to save lives while there is still time, Simon, Kate, and Malcolm—along with gadget geek Penny Carter and Charlotte, an adolescent werewolf—track down a necromancer who is reanimating the deceased. As the team battles an unrelenting army of undead, a powerful Egyptian mummy, and monstrous serpentine demons, the necromancer proves an elusive quarry. And when the true purpose of the ritual is revealed, the gifted allies must confront a destructive force that is positively apocalyptic.
The Undying Legion

by Clay & Susan Griffith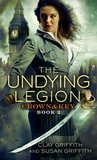 Five unlikely heroes band together to save Victorian London from the clutches of the demonic dead, risking life and limb while battling forces far darker and more powerful than they have ever seen. Grab your umbrella, we are off to London in a supernatural Sherlock Holmes-type mystery filled with dark magic, steampunk gadgets, and even a sweet young girl who becomes a fierce werewolf.
Ritualistic sacrifices are being made in London churches, gruesome, gory and clearly part of ancient black magic, but who is behind this? What is the purpose and why are there Egyptian hieroglyphics on the victims' foreheads? Is this a summoning of evil? Join Malcolm, the monster hunter, Simon the magician scribe and Kate, the brave and brilliant alchemist as they join forces with the queen of gadgets, Penny and sweet young Charlotte who is a force to be reckoned with as a werewolf.
Do you like the feel and atmosphere of steampunk, or witty banter among characters? How about characters who share the limelight as heroes when the chips are down? Do you like sifting through clues, formulating ideas and coming up with the impossible plan that just might work? How about an eleventh hour battle where the winner takes all? Authors Clay Griffith and Susan Griffith have put quill to paper and created another riveting and entertaining trip back in time with
The Undying Legion
book two of the Crown & Key series.
The atmosphere of London "back in the day" feels right, one might expect Mr. Holmes himself to walk out from the shadows. Feisty female characters, brilliant yet oh so proper male characters grace the pages of this tale as once again, the battle of good versus evil takes place in brilliant style. These authors know how to pull one from reality and into their story, and it is only with reluctance that one will want to leave. Tense, dark and alternating between a nice steady pace to over the top battles, a great way to spend your reading time!
I received this ARC edition of The Undying Legion from Random House Publishing Group - Del Rey Spectra in exchange for my honest review.