Guardian Girl
by N.C. Simmons
My rating: 4 stars
Series: The Chronicles of Staffordshire - Book 1
Publication Date: December 8, 2013
Publisher: N.C. Simmons
Genre: Erotic Romance
Print Length: 377 pages
August 28, 1980. It's move-in day at Manhattan's elite, women-only, Paulson College. Nervous freshmen are settling in and meeting their new roommates for the first time. Will she be a bookworm or a party girl? A slob or a neat freak? Will I like her? Will she like me?

Tennis star Lena Sardi doesn't care what her roommate is like as long as she's normal. Lena's life has been practice, study, practice, play since she was a child. She just wants to go to college, meet a nice, no-drama roommate, and build a legal career to fall back on when her always-suspect forehand finally gives out.

Inside 1426 Stilson Hall, Spanish supermodel Lenore De La Fuente has moved in and rearranged the furniture. Her bed is made. Her desk is clutter-free. Her designer-made clothes are hung neatly in her closet. She awaits the arrival of her roommate, dreaming of having just one girlfriend she can finally confide in, a girl she can share her hopes and secrets with and maybe have a little fun with for a change.

The tantrum-throwing tennis pro and the OCD runway cat are about to become the oddest couple of all.

A few miles up the Hudson...

The Prince of Madison Avenue is accepting a burdensome bequest. He is the sole heir to his family's fortune and the secluded estate known as "Staffordshire." But deep within Staffordshire's underbelly a twisted legacy lurks in the shadows. The prince's hands are tied. For the man dreaming of escaping his family's predilection for kink, murky obligations will interfere. To secure his inheritance, The Prince must one day find and wed a woman with a healthy appreciation for the sublime joys of "discipline."

Love is optional.

Paulson's Princesses and Staffordshire's Prince are fated to collide.

Sorry, Lena. Your dreams of "normal" are about to take a very muddy detour...
Guardian Girl

by N.C. Simmons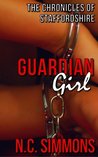 Like a semi gaining momentum,
Guardian Girl
by N.C. Simmons may take a page or two to get started, but once it's gone through each gear, adding more and more power and sensual intrigue, this is a force to be reckoned with. Back track to the 1980's where two famous, brilliant and wealthy teens let their public facades down as roomies at an exclusive women's college. Different as night and day, they become the closest of friends, sharing almost everything. Lena and Lenore find that not only are they best friends, like sisters of the soul, but their bond will last through good times, bad times and the fear of the unknown. Through college and beyond these two are the ultimate odd couple, so diametrically opposite in their daily habits and demeanor.
Meanwhile, a wealthy heir is given an unusual ultimatum, or he will lose his inheritance. Welcome to his estate, known as Staffordshire, where no one may enter without an invitation and few will want to leave.
Dark, erotic and full of tension, secrets and discoveries of both life, and of oneself, Rory, Lena and Lenore are about to embark on a journey into the pleasures of the flesh, the heart and the soul, like the Three Musketeers of erotic adventure.
A definite eye-opener, N.C. Simmons fears no genre, scene, or dialogue as we are taken into a world where sexual preference, experimentation and carnal needs are fulfilled while not ignoring the heart, mind and soul. With dialogue that can be rough, or even humorous at times, the characters, especially Lena and Lenore, make this erotic tale come to life with pure human emotion. Not for the shy, or those who may find discomfort in the subject matter, there is so much more to this tale than meets the eye. Intense, dark and full of surprises, get ready to enter N.C. Simmons' world, you will NOT soon forget it.
I received this copy from N.C. Simmons in exchange for my honest review.