In the Air Tonight
by Lori Handeland
My rating: 5 stars
Series: Sisters of the Craft - Book 1
Publication Date: June 2, 2015
Publisher: St. Martin's Press
ISBN 9781250020123
Genre: Paranormal Fantasy
Print Length: 352 pages
Four centuries ago, in a small Scottish village, three baby girls escaped the wrath of a witch hunter. Today, one young woman will learn about her secret history,?her heart's destiny,?and the sisters she never knew she had…

With her blue-black hair and dark eyes, Raye Larsen has never fit in with the Scandinavian community of New Bergin, Wisconsin. Being adopted is part of the reason she feels like an outsider, but what really sets Raye apart is her ability to see dead people. Everywhere. She's learned to keep her visions to herself…until she stumbles onto the ghost of a murder victim who needs Raye's help. Enter Bobby Doucet, a distractingly handsome homicide detective who has been tracking a killer all the way from New Orleans. Could this be the break in his case he's been looking for all along? Meanwhile, the deeper Raye gets involved with the case--and with Bobby--the closer she comes to unlocking the mystery of her own origins. What she discovers about herself could destroy everything she knows…and everyone she loves. Is finding the truth worth the risk??
In the Air Tonight

by Lori Handeland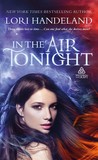 In a time and land filled with superstitions and tales of magic, three babies are born and already their very existence is on the line. Seventeenth century Scottish witch hunters are after them…and I am hooked. Lori Handeland's
In the Air Tonight
tells the story of one of these sisters, found as an infant, taken in by a loving couple and raised in contemporary times in Wisconsin. Raye has a secret, she sees ghosts, she talks to ghosts and now, using that very gift may be the only way to stop a serial killer on the loose. Enter Bobby, a detective from New Orleans tracking a killer with a similar MO. Can Raye trust Bobby with her secret? When it becomes a matter of life and death for those she loves, Raye must decide before it's too late.
Sound good? Sound like a great urban fantasy romance to savor? Hang on tight, because Lori Handeland isn't finished yet. With each page more is revealed and more questions arise, as Ms. Handeland uses her own magic of smoke, mirrors and great writing to engulf her readers in a dark tale filled with twists, turns and truths come to light as a budding romance heats up and evil must be brought down. Sounds like a win/win for fantasy readers, I know it was for me!
I received an ARC edition from St. Martin's Press in exchange for my honest review.