Written by: Lori Handeland
Series: Sisters of the Craft
Sequence in Series: Book 1
Page Count: 352 pages
Publisher: St. Martin's Paperbacks
Publication date: June 2, 2015
Rating: 5 Stars
ISBN-10: 1250020123
ISBN-13: 978-1250020123
Genre: Urban Fantasy | Withces | Romance
Four centuries ago, in a small Scottish village, three baby girls escaped the wrath of a witch hunter. Today, one young woman will learn about her secret history, her heart's destiny, and the sisters she never knew she had...
With her blue-black hair and dark eyes, Raye Larsen has never fit in with the Scandinavian community of New Bergin, Wisconsin. Being adopted is part of the reason she feels like an outsider, but what really sets Raye apart is her ability to see dead people. Everywhere.
She's learned to keep her visions to herself . . . until she stumbles onto the ghost of a murder victim who needs Raye's help. Enter Bobby Doucet, a distractingly handsome homicide detective who has been tracking a killer all the way from New Orleans. Could this be the break in his case he's been looking for all along?
Meanwhile, the deeper Raye gets involved with the case—and with Bobby—the closer she comes to unlocking the mystery of her own origins. What she discovers about herself could destroy everything she knows . . . and everyone she loves. Is finding the truth worth the risk?
Filled with dark magic, dazzling romance, and dire suspense, this is the first book in a thrilling new series by New York Times bestselling author Lori Handeland.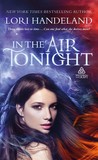 In the Air Tonight
by Lori Handeland
Reminiscent of my years of watching the TV show
Charmed
, I found
In the Air Tonight
a perfectly witchy, finding lost sibling, urban fantasy read.
The story starts four centuries early, when two desperate parents try to save their new born triplets by transporting them to the future, where they hope they are safe from persecution. The spell sends the three newborns to contemporary USA. Leaving each child in the hands of whoever found them, the newborn daughter have no clue about their heritage, ability or that they even have siblings.
Raye is adopted by a Wisconsin family, she is loved but always struggles to win her father's approval. That is why Raye has kept her mouth shut when she sees ghosts.
Raye becomes a target of a serial killer. That is when Raye meets Bobby Doucet, a New Orleans detective who has followed the serial killers MO to Wisconsin.
The attraction between Raye and Bobby grow and so does Raye's unusual abilities, the more they uncover the secrets behind the killing. Unless Raye can fully trust Bobby with her secret, they might all be at risk because an ancient evil is resurfacing and only Raye may have the power to stop it.
I found
In the Air Tonight
a sexy, seductive storytelling that had me riveted to the pages. Handeland masterfully unravels each secret, keeping you on the edge of your seat. Fantastic start to what is sure to be a 5 Star series.
I received this ARC copy of
In The Air Tonight
from St. Martin's Press in exchange for a honest review. This book is set for publication June 2, 2015.