Written by: Terry Spear
Series: Heart of the Wolf
Sequence in Series: Book 16
Page Count: 352 pages
Publisher: Sourcebooks Casablanca
Publication Date: July 7, 2015
Rating: 4 Stars
ISBN-10: 1402293828
ISBN-13: 978-1402293825
Genre: Paranormal Romance
Paul Cunningham is one of the only bachelors left on the SEAL wolf team, and he's less than thrilled to hear he's been volunteered for a local charity bachelor auction.
Lori Greypaw suspected that her grandmother would use the auction as an opportunity to fix her up. So she's not surprised when she "buys" Paul to help Lori renovate her mountain cabin for a week. Lori's had a crush on the sexy SEAL wolf for years, but he proves to be handy with more than a hammer when two fugitives come knocking and he'll do anything to protect the woman he's falling for...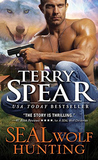 SEAL Wolf Hunting
by Terry Spear
Wolfullushes! Wolf shifters, hot alpha SEALs, lushes sexual tension and strong lady shifters, what more can you ask for?
Lori belongs to a woman only pack. The remaining men have left for military careers, only coming home while on leave. Lori and the other woman are looking for more from their missing men. What they want most is a commitment from Paul, Navy SEAL shifter, to become their full time alpha. Lori would also love for a full time commitment from Paul to also become her mate, but until he is ready to take that step Lori will do her best to keep their pack together.
Match making at its best, a charity bachelor auction, puts Paul and Lori in an up close and personal proximity in a remote cabin.
Spear provides the reader a front row seat to a highly entertaining romance. Side plots with a few unexpected twists and turns, I really enjoyed
SEAL Wolf Hunting
.
I received this ARC copy of
SEAL Wolf Hunting
from SOURCEBOOKS Casablanca in exchange for a honest review. This book is set for publication July 7, 2015.