Written by: Lori Handeland
Series: Sisters of the Craft
Sequence in series: Book 3
Page Count: 352 pages
Publisher: St. Martin's Paperbacks
Publication Date: August 4, 2015
My Rating: 4.5 Stars
ISBN-10: 125002014X
ISBN-13: 978-1250020147
Genre: Time Travel | Scifi | Paranormal Romance
Abandoned beneath a black willow tree on the banks of a northern Wisconsin creek, Willow Black spent her entire childhood in foster care. Her entire life she's had terrifying visions, and it is these visions that eventually land her in a psychiatric facility. And so Willow takes her meds and believes she is getting better. Until she meets a fellow patient who doesn't think she is crazy at all. She thinks Willow is a witch.
Willow's psychiatrist, Dr. Sebastian Crane, works hard to resist his feeling that he and Willow are destined to be together while also working to convince her that strange occurrences aren't the result of witchcraft… until he is thrown into the middle of a storm of supernatural events that can't be explained any other way…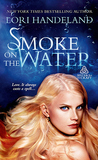 Smoke on the Water
by Lori Handeland
Willow thinks she's crazy. She was committed to a mental facility for killing someone she saw trying to kill her in her dreams.
When a new psychiatrist comes to the facility and its a man from her dreams...in a good way...Willow doesn't know what to make of it. Is her dreams for real?
Since this is a relationship building between psychiatrist and patient, it isn't a smooth love match. Mostly
Smoke on the Water
is the transition Willow makes into realizing her true powers, discovering who she is and the building of the relationship between Sebastian and Willow.
This is the final culmination of three sisters coming together, Raye, Becca and Willow. Each sister had an exciting story but putting them together was decadent.
The Sisters of the Craft series is wonderfully exciting, highly entertaining and thrilled this paranormal romance reading fan.
I give
Smoke on the Water
4.5 stars.
I received this ARC copy of
Smoke on the Water
from St. Martin's Press in exchange for a honest review. This book is set for publication August 4, 2015.