Smoke on the Water
by Lori Handeland
My rating: 5 stars
Series: Sisters of the Craft - Book 3
Publication Date: August 4, 2015
Publisher: St. Martin's Paperbacks
ISBN 9781250020147
Genre: PNR
Print Length: 352 pages
Reunited after four hundred years, three sisters join together to vanquish the power that tore them apart...and embrace the sorcery that is their birthright.
Abandoned as an infant, Willow Black spent her childhood in foster care, the object of whispers and pity...and rumors about being certifiably crazy. Telling your young friends that you can foresee the future-and summon the rain-is a surefire way to end up in the psychiatric ward. But when Dr. Sebastian Frasier arrives at the facility, Willow's whole life takes a turn. Sebastian is the handsomest man she's ever actually laid eyes on-even though he has been in Willow's visions for years. But not even she could have predicted the storm of passion that engulfs them both. With Sebastian by her side, Willow is emboldened to embrace her history, and the sisters she never knew. Soon, the true power in her blood awakes-and the battle she was born to fight begins. While the temp est rages, Willow must depend on the friends and family she's found-and the man she has loved forever...
In the final book of this enchanting new trilogy, New York Times bestselling author Lori Handeland sweeps readers into a bewitching tale of secrets, sisterhood, and the stunning magic of love.
Smoke on the Water

by Lori Handeland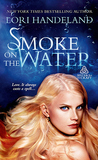 Named for the black willow tree she was found under, Willow Black never knew the love of a family. Raised in the foster care system, she endured horrifying visions, was considered insane, terribly disturbed and went from foster care to a psychiatric institution. The world thinks she's crazy, except for one woman, another patient who believes she is a witch. It was her dreams that put her here and her dreams that brought Sebastian into her life. Little did she know it would be as her psychiatrist, in spite of the sparks that run between them, Sebastian cannot swallow the tales she tells. Will he become a believer when Willow discovers who and what she truly is? Lost to her family for centuries, and now she's found, she finds that along with her two sisters, they are destined to save the world from an ancient demon whose one mission is to see them dead. Strong individually, together their forces triple, but will they be strong enough to defeat evil? What of Sebastian, a man of reason who has treated patients with visions for years? Will he become a believer or will he be the bait that brings Willow to defeat?
Leave it to Lori Handeland to bring her trilogy of three magical sisters to a fascinating and powerful end perfectly!
Smoke on the Water
is more than a fantasy tale; it is a family reunion of epic proportions! Imagine the joy of meeting her sisters and her parents for the first time! Ms. Handeland handled that so warmly, and then switched gears to heat up the action with more danger, an upcoming magical battle and hearts caught in the crossfire! Great characters, old characters making cameo appearances and villains who make you sneer every time they open their mouth. That is great fantasy and a fantastic wrap to this magical family reunion!
I received an ARC edition from St. Martin's Press in exchange for my honest review. Miss this series and you'll miss the magic of Lori Handeland's writing!