Written by: Jennifer Estep
Series: Elemental Assassin
Sequence in Series: Book 13
Mass Market Paperback: 400 pages
Publisher: Pocket Books
Publication Date: July 28, 2015
Rating: 5 Stars
ISBN-10: 1501105175
ISBN-13: 978-1501105173
Genre: Urban Fantasy | Paranormal
The next thrilling book in Jennifer Estep's New York Times and USA Today bestselling Elemental Assassin series—"an extraordinary series… One of the most intriguing heroines in the genre" (Romantic Times Book Reviews).
Keep your friends close but your enemies within stabbing distance.
One important lesson I've learned in the assassination business is that to be the best you have to roll with the punches. Now that I'm queen of Ashland's underworld—by default, not by choice—a lot more punches are being thrown my way. But I suppose that's the price of victory for taking down some of the underworld's top dogs. Good thing I have my Ice and Stone magic to help me survive my volatile new position. Just when I think things are finally settling down, someone tries to murder me during a hush-hush underworld meeting. But the real surprise is how strangely familiar my shadowy assailant seems to be.
My job is to maintain order among killers, crooks, and thieves, and soon I'm embroiled in a bloody game where the ability to keep secrets could be the greatest superpower of all. My enemies have all sharpened their knives and laid their traps, waiting for me to fall. But this Spider weaves her own webs of death…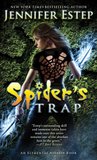 Spider's Trap
by Jennifer Estep
I absolutely love this series. Thirteen books in and its still going strong.
Gin is up against a "super power," a mysterious new foe and as the boss of the underworld she must maintain the peace. Politics has never been her strong suit so she's learning to rely on her friends and people she trusts more and more. A blast from the past, will keep Gin at the top of her game while she learns to take the reigns of her new position...even if it kills her.
Reading
Spider's Trap
is like coming home to old friends. Estep writes real people that you can't wait to hear how they are doing. The core group seems to continually grow but the ties that bind us, aka Gin, just keeps getting better and better.
I highly recommend Elemental Assassin to any paranormal, urban fantasy fan. Its a series that should not be missed. I just can't get enough.
I received this ARC copy of
Spider's Trap
from Pocket Books in exchange for a honest review. This book is set for publication July 28, 2015.