(Books for kids , ages 4-11 )
by Shir Guez
My rating: 5 stars
Series: Nutrilden - Book 2
Publication Date: August 22, 2015
Publisher: Shir Guez
Genre: Children's Nutrition 4-11
Print Length: 79 pages
Children's book Sweet as Fruit is all about healthy eating of fruits! The book is a collection of fun nutritional facts for kids that introduces your child to the rich, colorful, delicious, and nutritious world of fruits! This kids' book is filled with delightful illustrations for kids. It is appropriate for both beginner readers and for parents to read aloud for their younger kids.
Children will learn the value of nourishing the body with good food.
A great bonus in the end of the book: a free game for kids and for the whole family!
This is the second book in the book series "Nutrildren – Nutrition for Children".
This book is ideal for preschool kids to elementary school kids.
Recommended for ages 4-11.
Sweet as Fruit by Shir Guez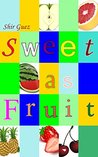 Kids hear us say, "Eat some fruit." But when they ask why, our answers are sometimes lacking for a young child. "Because it's healthy." What does healthy mean? What does good for you really mean? Shir Guez explains the value that color families of fruit have and why our bodies need them. She even provides colorful pictures, wonderfacts for added interest and the perfect opportunity for parents to learn along with their kids. If some of the descriptions are too difficult for a child to understand, it is another chance for parents to interact with their child as they explain. Sounds like a win/win situation to me! Don't be surprised if somehow, some way, these words stick with your child as they grow up! If we don't catch them at a young age, we foster another generation of unhealthy eaters as well as one that reads only when forced. Again, win/win!