by Megan Tayte
My rating: 5 stars
Series: Ceruleans - Book 4
Publication Date: September 30, 2015
Publisher: Megan Tayte
Genre: YA Paranormal Fantasy
Print Length: 314 pages
STORM CLOUDS ARE GATHERING, AND THEY WILL RAIN BLOOD.

Scarlett is living her happy-ever-after, back in the real world. Only the 'happy' part is proving problematic.

For starters, there's the isolation. Being a Cerulean among humans is fraught with risk, so her time with people can only be fleeting. Which means being with Luke but not being with Luke.

Then there's her Cerulean light, her power over life and death. Less awesome talent, as it turns out, and more overwhelming responsibility. And it comes with rules – rules that are increasingly difficult to obey.

But what's really pushing Scarlett to the precipice is something much bigger than herself, than her life in the cove. A force to be reckoned with:

Blood.

When long-buried truths are exposed, will Scarlett keep her head above water – or will she drown in the blood-dimmed tide that is unleashed?
Devil and the Deep

by Megan Tayte (Ceruleans, #4)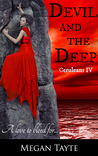 Gifted with unique talents, mere humans become the guardians of the Earth, keeping humanity safe while living hidden among us. Welcome back to the world of Megan Tayte's Ceruleans, where the price to be an unsung hero runs high and the enticement to go to the dark side blinds even the brightest star. Is there more to this tale than dark versus light? Is there a shade of gray to be considered?
Megan Tayte's
Devil and the Deep
is another example of her gift for creative thinking while giving her readers young romance, impossible missions and conflict that runs soul deep when Scarlett comes to realize that her gifts come with unwelcome consequences in the battle of good versus evil. Life is about to take another surprising turn for Scarlett as she discovers even more revelations, takes even more risks and finds that all she's been told may not be true.
Luke loves her unconditionally, accepts the price they must pay for their relationship, but Jude knows what Scarlett must deal with and has taken on the task of helping her come to terms with her new life. Can you say, intriguing plot? Unexpected twists that take you ever deeper into this amazing and unique tale? Situations that could bring chills to boiling water, Scarlett must deal with them all, while coming to terms with her relationship with her mother and the new world she belongs to. Did she make the right decisions? What does her future hold? Is she ready for what she must face?
Megan Tayte brings this young adult fantasy to life with enough relatable situations that there is something for everyone to say, "I get that," as each scene unfolds in brilliant detail! Timing and tone in a story is everything and Ms. Tayte has both great rhythm and perfect pitch as she brings us closer to the end of this series. Romantic highs and lows, conflicted feelings, startling revelations, and secrets to keep, a cover that could be wall art, what's not to like?
I was gifted this copy from Megan Tayte.