My Rating: 3 Stars
Written by: Kate SeRine
Series: Protect & Serve
Sequence in Series: Book 1
Mass Market Paperback: 320 pages
Publisher: Sourcebooks Casablanca
Publication Date: November 3, 2015
ISBN-10: 1492618349
ISBN-13: 978-1492618348
Genre: Romantic Suspense
When a high-profile investigation goes wrong, FBI Agent Kyle Dawson is transferred back home where he is forced to confront his demons…and the only woman he ever loved. Three years ago, Kyle and Abby Morrow shared a wild, passionate summer—then Abby broke his heart.
NOW SHE NEEDS HIS HELP
Kyle never stopped loving Abby. So when Abby uncovers evidence of a human-trafficking ring, leading to her sister's kidnapping, he swears he'll stop at nothing to bring her sister home and keep Abby safe. Caught in a lethal game of cat and mouse and blindsided by their own explosive desires, they must set aside the past before it's too late.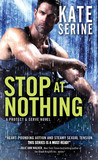 Stop at Nothing
by Kate SeRine
Stop at Nothing
is a new FBI suspense, thriller from Kate SeRine.
Abby an investigator working in forensic accounting, is thrown back together with Kyle, a transferred FBI agent and ex-lover.
Abby finds evidence of a human trafficking ring that has high and numerous political ties. Trying to keep herself and her nephew safe, Kyle comes to the rescue.
All the characters seem well developed and likable. Kyle is especially snarky and has plenty of attitude.
There is a lot going on in the plot. It runs at a very fast pace but for some reason it didn't completely work for me. Good base story, great characters, just a little too busy for my tastes.
I received this ARC copy of
Stop at Nothing
from SOURCEBOOKS Casablanca in exchange for a honest review. This book is set for publication November 3, 2015.