My Rating: 5 Stars
Written by: Scarlett Dawn
ISBN-13:2940152666014
Publisher: Scarlett Dawn
Publication date: November 15, 2015
Series:Woodland Creek
Genre: Paranormal Romance
A shifter made of stone. And wings.
A human bent on free love. And drunk.
Any joke could be made with those two lines.
But the town of Woodland Creek, it's no laughing matter. Hostile and magical residents guard their secrets. It's too easy to be found out.
When Isaac Stone first meets Kennedy Kirk, he's tempted to shove her off the clock tower. After all, she is gripping his private parts to lean over and see his town. One little push is all it would take...
Isaac never anticipated he'd be the one to fall.
**THIS IS A 35,000 WORD NOVELLA**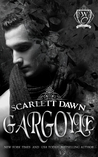 Gargoyle
by Scarlett Dawn
Holy Hotness Batman, oops that's Gargoyle.
Woodland Creek is a town inundated with shifters.
When a magical wave creates irresistible lust, Kennedy Kirk, human, and Isaac Stone, mayor of Woodland Creek and gargoyle, are trapped into a night of wild passion.
While the town reels from that cataclysmic night, Kennedy and Isaac do as well, separately. Until a chance meeting at a local restaurant, throws Kennedy, Isaac and Kennedy's ex-boyfriend back together.
Seriously, too short because I wanted more of the Woodland Creek world,
Gargoyle
was an amazing new read. The cast is lol funny, the chemistry burns the pages and the story was utterly engaging.
I received this ARC copy of
Gargoyle
from Scarlett Dawn in exchange for a honest review.