by Scarlett Dawn
My rating: 5 stars
Series:Woodland Creek
Publication Date: November 15, 2015
Publisher: Scarlett Dawn
ISBN-13:2940152666014
Genre: Fantasy Romance
Print Length: 125 pages
A shifter made of stone. And wings.
A human bent on free love. And drunk.
A joke could be made with those two lines.

But the town of Woodland Creek, it's no laughing matter. Hostile and magical residents guard their secrets. It's too easy to be found out.

When Isaac Stone first meets Kennedy Kirk, he's tempted to shove her off the clock tower. After all, she is gripping his private parts to lean over and see his town. One little push is all it would take...

Isaac never anticipated he'd be the one to fall.
Gargoyle

by Scarlett Dawn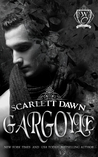 Talk about being caught between a rock and a hard place! Leave it to Scarlett Dawn to jump right into her tale with a few chuckles! Kennedy has had far too much to drink and very unwisely stands far above the ground among Gargoyle statues. At least she wisely held on tight to one Gargoyle as she leaned precariously over the edge…little did she know, that specific appendage could prove far more fascinating in the flesh!
In a magical town full of shifters and more, a family of gargoyle shifters perch in place, keeping watch. Among them is the mayor of the town, Isaac, who is about to find out what can happen to his heart when an irresistible lust orgy overcomes the town and Kennedy is the woman he lusts for. Was this a chance encounter or does Fate have a few more tricks up her sleeve?
Gargoyle
is sizzling with Scarlett Dawn's signature heat, passion, humor and wit! This short read is a light, breezy and fun. Seriously, who else could pull off a magic-induced orgy in all of its glory, then taunt her characters with its aftermath?
I received an ARC edition from Scarlett Dawn in exchange for my honest review.