by Kate SeRine
My rating: 3 stars
Series: Protect & Serve - Book 1
Publication Date: November 3, 2015
Publisher: Sourcebooks Casablanca
ISBN 9781492618348
Genre: Romantic Suspense
Print Length: 320 pages
When a high-profile investigation goes wrong, FBI Agent Kyle Dawson is transferred back home where he is forced to confront his demons…and the only woman he ever loved. Three years ago, Kyle and Abby Morrow shared a wild, passionate summer—then Abby broke his heart.

NOW SHE NEEDS HIS HELP

Kyle never stopped loving Abby. So when Abby uncovers evidence of a human-trafficking ring, leading to her sister's kidnapping, he swears he'll stop at nothing to bring her sister home and keep Abby safe. Caught in a lethal game of cat and mouse and blindsided by their own explosive desires, they must set aside the past before it's too late.
Stop at Nothing

by Kate SeRine (Protect & Serve, #1)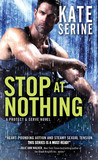 Abby broke his heart after one fantastic summer of love, lust and chemistry, but that was three years ago. FBI agent Kyle Dawson should be over it, but returning home via transfer proves that she is still the woman who owns his heart. When Abby needs his help, what could he do but answer the call?
Abby has discovered a human trafficking ring, and now her sister has been taken. When Kyle becomes convinced that this is related to another investigation he was on, he will stop at nothing to bring Abby's sister home and the human traffickers to their knees. The only distractions he faces are his father and Abby, both relationships volatile, but only one lights the fires of desire in his heart. Can Abby and Kyle start over or is this only Abby's gratitude and fears for her sister that bring her to Kyle's bed again?
Stop at Nothing
by Kate SeRine has all the chemistry one needs between two intense characters who must look to an unknown future and leave the past behind. Tons of tension, loads of lust and another tale of one of contemporary history's most foul blight. Romantic suspense doing a slow simmer over a flame of love and lust, Ms. SeRine is sure to give her readers what they want.
I received an ARC edition from Sourcebooks Casablanca in exchange for my honest review.