Esther's Gift: The Lei Crime Series
by Bette Lee Crosby
My rating: 5 stars
Series: The Lei Crime Series
Publisher: Kindle Worlds (November 23, 2015)
Publication Date: November 23, 2015
Genre: Contemporary Fiction | Romance
Print Length: 83 pages
In the days before hurricane Iniki hit the island of Kauai the forecasters predicted it would stay south of Hilo. But Esther Ka'awai, a psychic and gifted wise woman of the ancient culture has seen the future. She knows of the devastation that will come to the island. She has warned those she loves; now all she can do is pray.

As she struggles to accept this gift of knowing, Esther discovers that even the most wonderful gift can sometimes break your heart.

A story of love, faith and a belief in the future.
Esther's Gift

by Bette Lee Crosby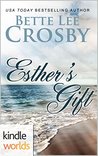 Sometimes you just need a sweet tale of life, respect, love and second chances after heartbreak. When Esther married, the blush of youth and a beautiful future lay ahead on the tropical paradise of Hawaii. Esther is special, she is gifted with the ability to see the future and is careful never to abuse it, respecting its power. When a horrific hurricane plows through her island home, she has time to warn those she loves, but a foolish new resort owner ignores the warnings and both his dreams and the lives of many are gone while his resort becomes a place to fear for the gods were angered.
Years later, older now and widowed, Esther is to be given a second chance at love and life when John, a retired widower purchases the ruined resort and is determined to give it new life, while honoring the customs of the island. Their relationship is one of respect and warmth as John becomes a willing pupil to Esther's island knowledge and giving heart. What unfolds is something of modern day fairytales and happily ever afters.
Bette Lee Crosby has created a warm and glowing tale of family, love and the belief in honoring traditions instead of bulldozing over them. A quick read,
Esther's Gift
is a wonderful break from the stress of the day.
I received this copy from Bette Lee Crosby in exchange for my honest review.