My Rating: 5 Stars
Written by: Alexandra Ivy
Series: Ares Security
Sequence in Series: 1
Mass Market Paperback: 368 pages
Publisher: Zebra
Publication Date: December 29, 2015
ISBN-10: 1420137557
ISBN-13: 978-1420137552
Genre: Romantic Suspense
From the hellhole of a Taliban prison to sweet freedom, five brave military heroes have made it home—and they're ready to take on the civilian missions no one else can. Individually they're intimidating. Together they're invincible. They're the men of ARES Security.
Rafe Vargas is only in Newton, Iowa, to clear out his late grandfather's small house. As the covert ops specialist for ARES Security, he's eager to get back to his new life in Texas. But when he crosses paths with Annie White, a haunted beauty with skeletons in her closet, he can't just walk away—not when she's clearly in danger…
There's a mysterious serial killer on the loose with a link to Annie's dark past. And the closer he gets, the deeper Rafe's instinct to protect kicks in. But even with his considerable skill, Annie's courage, and his ARES buddies behind him, the slaying won't stop. Now it's only a matter of time before Annie's next—unless they can unravel a history of deadly lies that won't be buried.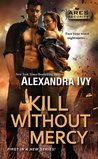 Kill Without Mercy
by Alexandra Ivy
As a fan of Alexandra Ivy's paranormal books, I was excited that she is starting a new series with a slight paranormal flare.
Annie had a terrifying physic ability, as a child she saw murders as they were happening. Her father was arrested for these murders and killed in prison before he ever went to trial.
Years later, Annie is an adult and the dreams have returned. She is again plagued with the dreams of murders. Annie decides to return to her hometown. She needs to find out if these are just dreams that haunt her from her past or if a murderer again is claiming the lives of the women in her hometown.
Rafe's estranged grandfather has died, leaving Rafe the beneficiary of a rundown home in a small town. Last thing he expects while facing this difficult chore is finding a woman that ignites his every protective instinct and desires.
When one in the Ares team gets invoiced the entire team has their back.
I absolutely loved this book. The mystery thriller with the physic connection was awesome but the over all story telling style sealed the deal for me.
Flat out,
Kill Without Mercy
was an extraordinary new read and series by one of my go to authors, Alexandra Ivy.
I received this ARC copy of
Kill Without Mercey
from Kensington Books
- Zebra in exchange for a honest review. This book is set for publication December 29, 2015.