The Selection
by Christine Castle & Jayne Faith
(Sapient Salvation Series, #1)
Publication date: October 2015
Genres: New Adult, Paranormal Romance
Twice a year, the alien Lord Toric demands a selection of human women between the ages of 18 and 20 to compete in the Tournament of the Offered for a place in his harem. Maya must get through just one more selection and then she can marry the man of her dreams. She should have been safe, but when a young woman who was supposed to compete dies the day of the selection, Maya is forced into the Tournament.
Now she must compete against women who have been training for the Tournament for years to hone their skills of poise, charm, cunning, and seduction. And there is only one winner in the Tournament. The losers will be sacrificed.
Thrown into the fight of her life with no preparation, Maya must shed her innocence and win Lord Toric's favor. Will she survive the first round, or will she pay the ultimate price for her inexperience?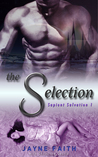 The Selection
by Christine Castle
My rating: 5 of 5 stars
The Selection is an alien induced Hunger Game like plot that blew me away.
Humans are lined up every year to send their selected young to another planet as a sort of tribute to serve Lord Toric. But before they serve they must survive the "Tournament", to find those who are worthy.
There is a religious element that leads the zealous traditions creating the strict adherence to laws set in motion.
Political machinations, life and death circumstances and electrifying sexual tension make this a riveting must read.
I received this copy of The Selection from Xpresso Book Tours in exchange for a honest review.
Hi there! I'm author Jayne Faith. When I'm not tapping away at my keyboard while swilling coffee and tea, I'm playing with my dog; eating crunchy snacks, flipping through recipes online, fantasizing about food, dreaming up my next meal (you get the idea – I'm a foodie!); doing yoga or Pilates; or watching TV (my co-author Christine Castle and I are both obsessive fans of the small screen!).

Visit with me and Christy on Twitter @CCJFbooks. Be sure to join our Insiders List – our insider members get all kinds of fun stuff, including free stories, insider info about upcoming books, and lots of fun behind-the-scenes tidbits from us – join the Insiders on our website CCJFbooks.com!

Author links:
https://twitter.com/CCJFbooks
Tour-wide giveaway (INTL)
3 eBooks Winners get to choose between
The Laws of Attraction from our Love Across Stars series
- ends Dec 17th
@Xpressobooktours