by Susan Arden
My rating: 5 stars
Publisher: Silver Sprocket Publishing
Publication Date: January 11, 2016
Genre: Contemporary Erotic Romance | Suspense
Print Length: 352 pages
A random hookup too hot to handle? Never say never.

In a grueling game of cat-n-mouse with her step-uncle, it's Margo's move.

On the run, she does a body slide right into the arms of a recently discharged Marine. Outside of a crazy fling, there is zero room in her life for men. Distractions are dangerous to her health.

From working a fence line and dealing with cattle, Rod McLemore is thrust back into the line of duty. And he promptly fails. He crosses the line in a no-brainer mission: go and get the girl. On no hands is he prepared for Margo or her smart-mouth, right hook, and cargo to hide.

Margo and Rod are as volatile as flint and gunpowder. Bordering on taboo, their raw attraction is a recipe for disaster. Especially when the stakes are raised.

Their stormy love affair forces them over the edge and out of their comfort zones as they wrangle in-laws, Mother Nature, and a slick conman. A regular trial by fire. But a battle worth fighting means taking a stand and they'll do whatever it takes to stay together. Even if it means they have to lie, cheat, steal.
Or kill.

o-o-o-o-o-o-o-o

Margo Santero.
Riding in a rodeo with a pack of adrenaline-hyped cowboys isn't what it was cracked up to be. On the run since my mom died, I found out the hard way everyone has a price. And trust is a commodity. This isn't the lifestyle I want, but neither is the demented offer my step-uncle tosses my way. He ups the ante, threatening my horse, forcing me to bolt. One day I'll fix Axel for good. For now, I've gotta a run.

Rod McLemore.
She stormed into my life. A beautiful hurricane with dark secrets, blinding curves, and a smart-mouth I should kiss into submission. She's on the run and needs my help. Not that she listens. But if it's the last thing I do, I'm going to make her mine. Even if it means I have to lie, cheat, deal with her horse from hell...
Or get out my M9. Won't be the first time I've pulled the trigger.

STORM WARNING: This is a seismic erotic romance, detailing a barely-legal runaway and a dirty-talking McLemore. If a fiercely protective aka alpha-male cowboy lights your fire, then you've come to the right ranch.
Too Hot To Handle

by Susan Arden (Bad Boys Zero to 60)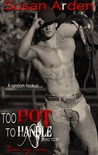 Grab the oven mitts, some ice water and discover what cowboys and cowgirls do to wind down after the last bronc is busted, the last calf is roped and the last barrel has been rounded.
Rod has been roped into picking up his cousin's soon to be sister-in-law at the airport, simple mission, one any ex-Marine, current rancher should be able to handle, meet at the pickup point at the airport, grab the girl and head on back. Then again, he has never met the likes of Margo, a beautiful whirlwind of unchained trouble with a saddlebag full of trouble and secrets following close on her heels. Margo, the footloose rebel in the family, the brazen and mouthy wild child, the one who has room only for "one time only" hot rendezvous. Prepare for the clash of the Titans as one overbearing alpha male and one on the run firecracker find more than lust in each other's arms, and it could prove deadly and dangerous to everyone she loves.
Margo has a disgusting power-hungry, knuckle-dragging step-uncle who is pulling her strings, threatening all that is dear to her and no one can know, but threatening to take her horse is going one step too far, even if he is one of Hell's minions.
Like David and Goliath, follow Margo and her razor-sharp tongue as she fights to keep one shred of dignity, her horse and above all, her family safe from the taint of her uncle's slime. Meanwhile, Rod is breaking her down, piece by piece, until she learns that all men are not created evil and she may have found the one that will stand by her and for her when push comes to shove.
Definitely a suspense-filled plot that sizzles off the pages as Susan Arden uses a blowtorch to scorch each scene across the pages in
Too Hot to Handle
. Racing from one action-filled scene to another, both under the sheets or in the barn, readers will find explosive sexual chemistry, dialogue that will make you melt, chuckle or rage and the proverbial battle of good versus evil. With a hero to die for, a heroine more volatile than TNT and the uncle everyone warns you to steer clear of, get ready for the ride of your life! Susan Arden has branded this one with her in-your-face style of erotic romance and down and dirty suspense. Check your blush at the door...
I received an ARC edition from Susan Arden in exchange for my honest review.