My Rating: 4 Stars
Written by: Rebecca Zanetti
Series: The Scorpius Syndrome
Mass Market Paperback: 384 pages
Publisher: Zebra (January 26, 2016)
Language: English
ISBN-10: 1420137948
ISBN-13: 978-1420137941
With nothing but rumors to lead her, Lynn Harmony has trekked across a nightmare landscape to find one man—a mysterious, damaged legend who protects the weak and leads the strong. He's more than muscle and firepower—and in post-plague L.A., he's her only hope. As the one woman who could cure the disease, Lynn is the single most volatile—and vulnerable—creature in this new and ruthless world. But face to face with Jax Mercury…
Danger has never looked quite so delicious…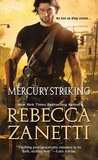 Mercury Striking
by Rebecca Zanetti
Lynn Harmony is in search of freedom. Blamed for starting the Scorpius Syndrome, she is hunted and a pariah to mankind. Her hope lies in Jax Mercury, a leader in the Vanguard group and survivors of this plague.
Zanetti has two very powerful characters that bring this story to life. The hostile world climate is on the brink of imploding and you can truly believe Jax and Lynn have what it takes to survive but I wasn't 100% all in to them being a couple.
I was very excited when I found out about a new series by Zanetti and with her world building alone, I was not disappointed. The world building was superb then add in the unique dystopian circumstances that has you guessing till the end. Overall, I really enjoyed
Mercury Striking
.
I received this ARC copy of
Mercury Striking
from Kensington Books - Zebra in exchange for a honest review. This book is set for publication January 26, 2016.