by Ann Hunter
My rating: 5 stars
Series: North Oak - Book 2
Publisher: Rebel House Ink
Publication Date: October 1, 2015
Genre: YA Fiction | Horses
Print Length: 194 pages
A new year has come to North Oak, and with it a new life for Alexandra Anderson. Will she be able to open her heart to others when its still battling demons from her past? Or will she go so deep into herself where no one can touch her, and risk losing Promenade in the Keeneland Yearling Sale?

Don't miss this sequel to North Oak #1: Born to Run!

On the heels of Joanna Campbell's beloved Thoroughbred Series, and Walter Farley's Black Stallion, comes a brand new young adult horse racing series that will sweep you away like a runaway Thoroughbred.
Yearling

by Ann Hunter (North Oak, #2)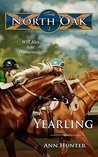 Alex is trying her best to fit at North Oak, it isn't the people there, or her new family, it is her and she knows it. She just can't quiet that rebel streak to live life on the edge and see what she can get away with. Is she testing everyone to see if they'll toss her out? Abuse her? Does she really feel she is that useless? Yes, she has done some terrible things that no child should have to even think about, but she did it for the right reasons.
Promenade gets her, she is sure of it. The huge thoroughbred is her misunderstood kindred spirit. When there is a very good possibility Promenade will be sold, and Alex's mind is swirling with what if scenarios. One thing for sure, he isn't going anywhere until she rides him, at least once…will it mean doom for both of them? If Alex can't go back to a world where Ashley lives, what else does she have?
Ann Hunter's sequel to
Born to Run
,
Yearling
takes us past the world building and the character development and into the heart and mind of one broken girl struggling to make sense of life and where she fits in. her love for all things horse related and for one horse in particular becomes a desperate attempt to have some control and consistency in her life on her terms. Follow as Alex and her new family learn to deal with each other and maybe just learn to trust that there is a place for everyone in the hearts of the "family" at North Oak.
Ann Hunter takes grown-ups back to the days when owning a horse was a dream. She takes young adult readers into the world of horses that we cherished as children. The fantasy of being surrounded by horses, riding, racing, caring for them and building a bond, it's all here on the rolling acres of North Oak. I don't know about you, but I used to dream of having a horse, racing it and being a champion. I was fortunate enough to be able to live the dream of owning horses, but Ann Hunter has taken me back to my youth in a good way in a contemporary setting.
I received this copy from Ann Hunter in exchange for my honest review.