Life leaves you scarred

...

Love can make you beautiful
~~~~~~~~~~~~~~~~~~~~~~~~~~~~~~
Congratulations to our Kindle Copy Winners!
Pat W
Lynda D
by Joanne Macgregor
My rating: 5 stars
Publication Date: September 29, 2015
Publisher: Joanne Macgregor
Genre: YA Fiction
Print Length: 251 pages
"Life leaves you scarred. Love can make you beautiful."

Seventeen year-old Sloane Munster is trying to reboot her life after a serious car accident left her badly scarred and emotionally traumatized.

Starting her senior year at a new school, she's delighted to see Luke Naughton, a swimmer whom she once crushed on, in the class in front of her. But when he glares back at her with disgust and revulsion, she's shocked and hurt, and assumes it's because of her appearance. Despite misunderstandings, the chemistry between them sparks and love grows against a background of guilt, secrets, and mounting tensions at a school where bullying is rife and Sloane is not the most deeply scarred person.

Sharp with bittersweet humor, Scarred is an intense, beautiful, compelling story of life, death and fighting for love against all the odds.

~~~~~~~~~~~~~~~~~~~~~~~~~~~~~~
Scarred

by Joanne Macgregor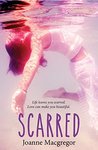 A serious car accident left her scarred physically and emotionally. Her "friends" left her abandoned and alone at a time when she needed them most. For seventeen-year-old Sloane Munster, the life she had known was gone, only the memories and her hopes and dreams remain, crushed and shattered. When she begins her senior year at a new school, she already knows what to expect and she was not disappointed. The bullies came out in droves, the gawkers would stare at her face with expressions from revulsion to pity as they saw the long, jagged scar. But the worst reaction came from a boy she had known at her other school, a boy she had crushed on from afar. His rage was almost touchable, the venom he in his voice was brutal and cold, and Sloane wouldn't find out why for a long, painful time.
Scarred by Joanne Macgregor is more than another young adult tale of bullying, insensitivity and the cruel callousness that runs rampant today. It is a story of one brave young lady strong enough to face life after "the accident" but unprepared to come face to face with the rage and hate-filled Luke, another "victim" of the accident that changed Sloane's life. This is a tale of forgiveness, of healing and of the awareness that one's individual pain is shared by many.
Joanne Macgregor has created a strong and powerful character in Sloane as she uses sarcasm and dark humor to as a shield to what she feels inside. Sloane shows her compassion for others time and again only to be rebuffed, but she never stops. Forcing Sloane and Luke together in times of high stress was a brilliant move as he learns to forgive her for a debt she never owed and admit to the guilt he once felt for caring for the person she is on the inside. Emotionally jarring, eye-opening to the cruelties a human faces for being different or flawed, this is a must read for everyone from teachers to students to parents. There are lessons to be learned wrapped within a highly engaging tale from this brilliant author. I asked myself if I could have had Sloane's strength at her age.
~~~~~~~~~~~~~~~~~~~~~~~~~~~~~~
When not writing books, Joanne Macgregor is a Counselling Psychologist in private practice and deals mainly with victims of crime and trauma. It's tough work and to combat creeping burnout, she started writing fiction several years ago. Now she consults and writes on alternate days, and in completely different head-spaces and physical environments.
She started her professional life as a high school English Teacher, but has also worked as an IT trainer, a theatre dogsbody, and management consultant. Also as a waitress, an in-store frozen vegetable demonstrator and make-up artist.
Although she lives in the frenetic adrenaline-rush that is the city of Joburg, Joanne has always been in love with nature, and escapes into the mountains and the bush whenever she can. She's a pretty good cook, grows vegetables, and is addicted to chilies and bulletproof coffee.
Joanne is a bird of many feathers and enjoys writing for different ages.
Connect with Joanne
~~~~~~~~~~~~~~~~~~~~~~~~~~~~~~
Books for Adults
Click on covers for buying information
Books for Younger Readers
Books for Young Adults
~~~~~~~~~~~~~~~~~~~~~~~~~~~~~~