by B.A. Sherman
My rating: 5 stars
Series: Greg Dorn Series - Book 2
Publication Date: May 6, 2016
Publisher: B.A. Sherman
ISBN: 1530616034
Genre: Suspense
Print Length: 151 pages
The Ultimate Killing Machine or Something Else?

In this second book in the Greg Dorn Series, Denver police officer Dorn wakes up one day to discover he is handcuffed to a bed in a quasi-medical facility recovering from some serious wounds. He is in severe pain and has no memory of how he got there. As his memory slowly returns, Dorn is obsessed with getting home to his wife and daughter but finds he is being held captive. He discovers that someone, somehow has tampered with his identity—and his head. He is now being prepped by his captor to become a "soldier" in a killing scheme intended to eradicate the enemy. "The General" fails to realize the extent to which he has perfected his new killing machine. Using his new skills, Greg escapes, jumps on a cargo train and heads home…but his homecoming is nothing like he expected.
The One by B.A. Sherman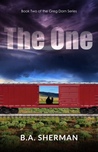 What happened to Officer Greg Dorn the night he was shot by fellow officers? There was a funeral, a grieving widow and young daughter left behind, but six years later, Greg awakens, disoriented, weak and strapped to a hospital bed in what appears to be a military type hospital. How did he get there? What's going on? Where is his wife? Why does he feel so different? Is he a prisoner somewhere? Why can't he get answers?
B.A. Sherman is back with more of Greg Dorn's story, the tale of a man who should be dead, but he isn't, he is
The One
. Greg is a lab rat, a guinea pig, a very expensive experiment in a top secret lab, held captive by a brutal General with plans to create the ultimate killing machine. Greg is his first success, but things didn't go as planned, Greg still feels like the same man, but he isn't and he doesn't feel alone in his head and that doesn't feel like his face. Combining his enhanced strength and almost robotic fighting skills, he must escape and find his family. His journey will teach him to survive riding the rails, to care for others and even to love a stray dog, but what he finds when he gets home will break your heart.
Do you like tales of black ops, illegal experiments, scientific manipulation and a hero desperate enough to conquer all to get back to what is important in his life? B.A. Sherman has upped his game with
The One
. The action is superb and often satisfying, gotta love the bad guys getting their due! The mental dialogue Greg has is riveting as he ferrets out some of what is going on and the characters? You want evil, you have them! You want emotionally devastated characters who are clueless as to what is going on? How about a hero that makes the Six Million Dollar Man look like a Blue Light Special? Discover the strength of will of one man when pitted against an army of science-crazed madmen.
I received an ARC edition from B.A. Sherman in exchange for my honest review.