Delilah Dusticle and the Cursed Tempest
by A.J. York
My rating: 5 stars
Series: The Delilah Dusticle Adventure Series - Book 3
Publisher: Nova Sky Books; 1 edition (May 4, 2016)
Publication Date: May 4, 2016
Genre: Children's fantasy Ages 8 - 12
In this exciting instalment, Delilah Dusticle and the Dustbusters travel to the vibrant and mystical land of India. On arrival, they are tasked with a quest to overcome a powerful curse and save a life. It soon becomes clear that it is Delilah, who must find the strength and the power to defeat the curse. This is the third in a series of stories following Delilah and the Dustbusters on adventures around the world. Fully illustrated and packed with adventure!
Delilah Dusticle and the Cursed Tempest

by A.J. York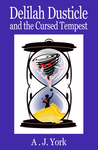 Delilah is back, and with the help of the Dustbusters will be off on a mission of mercy to help save a young girl in India from being sacrificed to the Cursed Tempest in order to save her village.
Delilah Dusticle and the Cursed Tempest
is fantasy at its best for younger readers. But when all else fails, will Delilah have to resort to using her humanity and compassion? Will it be enough to end the curse?
Follow Delilah, Grumpy Sponge and the Dustbusters as they discover the magical land of India, both its beauty and its darkness. Feel the adventure come to life, see it through the eyes of a child and get lost in a world filled with quirky characters, loving families and one brave hearted young girl who is willing to make the ultimate sacrifice for those she loves.
And, about Grumpy Sponge, think about it, if you had to stick your face in grime all day long, how happy would you be?
Once again, A.J. York gives middlegrade readers an action and tension-packed read while going to places and doing things that only the magic of books and one's own imagination can truly appreciate. Give a child the gift of other worlds, give them great reading like that which comes from A.J. York!
I received this copy from A.J. York in exchange for my honest review.