Paranormal Fantasy for Young-at-heart Readers!
~~~~~~~~~~~~~~~~~~~~~~~~~~~~~~~
First Prize - PRINT COPIES (US Only)
Nancy J
Second Prize - eCopies (International)
Meredith M
Chronicles of a Wererabbit
by Michelle Zeman
Publication Date: July 11, 2015
Publisher: F.B. Publishing
Genre: Children's fantasy
Print Length: 244 pages
Heroes don't come any furrier than this..
I wasn't born with a scar on my forehead. I'm not an heir to a distant kingdom. The destiny I was born to was simply to die in a laboratory. My ability? To become small and furry. But becoming a hero doesn't happen overnight and destiny is a funny thing. In one moment the kindness of a stranger- or in my case a vampire - can change everything.
My name is Snow and I am a wererabbit.
Snow Everly was born a rabbit and believes that her destiny was to die in a cold laboratory. Then one winter night, a vampire named John breaks in searching for his missing research. When the lab goes up in flames he goes back and rescues her. He names her Snowball and has no idea that she is no ordinary rabbit. John's partner, Edgar tells him that he is now a father but it takes time for John to realize how right he is. When Snow turns three years old, Snow gains the ability to shift into a girl. Why was she created? Who and what are the mysterious figures following her? Follow Snow on her journey as she makes friends with werewolves, a telepathic mouse and searches for answers. Her dream is to one day become a hero and above all else - she wants to be accepted for who she is - a wererabbit.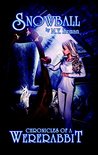 Are you on the hunt for a wonderful middlegrade fantasy for your young reader that isn't full of gruesome scenes, but has completely relevant issues that face kids today neatly tucked within? Look no further,
Snowball: Chronicles of a Wererabbit
by Michelle Zeman is a delightful paranormal fantasy about a young rabbit who escaped from a laboratory only to be found by an ancient, absent-minded vampire! John names her Snow, takes her in and knows absolutely nothing about caring or a baby bunny. Thankfully, his partner, Edgar, a flamboyant and highly lovable vampire takes charge and their little family is a loving trio. As Snow aged, poof! She changes into a cute little toddler, in need of learning how to change at the right time! As Snow grows, she faces the same issues as any child, from being made fun of to going to her first dance, to dreaming of being a hero. Along the way, she makes some great and unique friends and lives a life filled with family love, support and caring all while learning about accepting others as she would like to be accepted, as herself, a wererabbit.
Michelle Zeman has created a non-threatening fantasy for all ages, a wonderful plot, some quirky characters and a lovable young girl. No major spotlighting issues with a big fanfare, no major statements made, just a part of this young girl's special life! The ways issues that arise are dealt with are admirable, downplayed and yet, there are subtle messages that will resonate. A perfect story to discuss with family, as well as read to younger children, allowing them a chance to feel the magic of reading and the joy of falling into another world where anything can happen!
~~~~~~~~~~~~~~~~~~~~~~~~~~~~~~~
Chronicles of a Wererabbit
by M. Y. Zeman
Publisher: F. B. Publishing (March 21, 2016)
Publication Date: March 21, 2016
Genre: Coming of Age | Children's Fantasy
Print Length: 230 pages
My name is Snow and I am a wererabbit. I thought my fate was to die in a lab until one stormy night a vampire saved my life and became my dad. Ever since I was young I've dreamed of being a hero. Saving Josh, a teenage werewolf was a good first step.
But the road ahead of me is full of unexpected twists and turns.
Things got scary when we brought Josh home. If my early years were like a Disney movie, my teenage years could best be described as an original Grimm fairy tale. It started with the nightmares we had to wake Josh up from when he began screaming in the dark.
M.Y. Zeman tells a delightful, action filled tale of a young wererabbit with a unique family and the pluck to look out for others when they are in danger.
Snow Bunny: Chronicles of a Wererabbit
is the perfect paranormal fantasy for middlegrade readers with just the right touch of tension without gore that allows the reader to fall into a world one can only dream of!
Meet Snow, a fourteen year old wererabbit in a family unit consisting of two vampires as her parental figures and strong character role models. She has always wanted to be the hero she sees her father as and now is her chance. Josh is a teen werewolf held prisoner in an evil lab, drugged to prevent his change, stuck in his human form. Will rescuing him prove to be a good thing or will it bring the wrath of evil down on them? Can Josh overcome the drugs in his system and change again? The danger surrounding them will necessitate a move, but wait until you discover where they move to!
Endearing characters, nothing too dark or foreboding and a twist in family dynamics that is handled with ease. The perfect way to show a child that everyone is different, but love never fails. Cute reading for younger readers.
~~~~~~~~~~~~~~~~~~~~~~~~~~~~~~~
M. Y. Zeman has a Master's Degree from Stonybrook University and a BA in Mathematics. She followed in her mother's footsteps and became a teacher of computers and math. She has worked as a professional web/graphic designer, creating many sites, including Tony Award winning actor Michael Cerveris' official site.
She has been writing since she was old enough to read and has written short stories, articles and poetry. Her first book,
Running into the Black
is a courtroom drama.
A lifelong fan of science fiction and fantasy, she is happy to be writing the new series
Chronicles of a Wererabbit
. She currently lives in New York with her dog and three dwarf bunnies and is working on the third book,
Snow Island
.
~~~~~~~~~~~~~~~~~~~~~~~~~~~~~~~