by Marsha A. Moore
My rating: 5 stars
Series: A Coon Hollow Coven Tale - Book 2
Publication Date: April 24, 2016
Publisher: Marsha A. Moore
Genre: Fantasy | Paranormal Romance
Print Length: 305 pages
Eager to be on her own away from home, twenty-year-old Aggie Anders accepts a relative's invitation to live in Coon Hollow Coven. Although she's a witch from a different coven, what locals say about the Hollow confuses her. How can witchcraft there live and breathe through souls of the dead?

Aggie's new residence in this strange southern Indiana world is a deserted homestead cabin. The property's carriage house serves as the coven's haunted Halloween fundraiser. It's a great opportunity for her to make new friends, especially with the coven's sexy new High Priest Logan.

But living in the homestead also brings Aggie enemies. Outsiders aren't welcome. A cantankerous, old neighbor tries to frighten her off by warning her that the homestead is cursed. Local witches who practice black magic attempt to use their evil to drive Aggie away and rid their coven of her unusual powers as a sun witch.

Determined to stay and fit in, Aggie discovers not only that the cabin is cursed, but she alone is destined to break the curse before moonrise on Samhain. If she fails, neither the living nor the dead will be safe.
Witch's Cursed Cabin

by Marsha A. Moore
(A Coon Hollow Coven Tale, #2)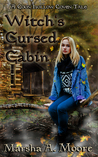 When you hear the word witch, what do you think of? Pointy hats, flying brooms, an evil cackle and maybe a warty nose? Have you ever thought that witches are people, too? That they have the same desires, good sides and bad sides that "non-witchy" people do? Aggie Anders wanted to some freedom, to stand on her own, so when she was offered a place to stay in Coon Hollow Coven, she was surprised to find that things were different, outsiders are not welcome and this cozy little town isn't quite as warm as she had hoped it would be.
The cabin she moves into is the focal point for the annual town fundraiser, so naturally Aggie, a sun witch thinks this will be the perfect chance to meet her new neighbors. Too bad they aren't as generous in their thoughts as she is. Outsiders are not welcome and she is told the cabin she is staying in is cursed. Something is not right about this town, she can feel the black magic in the air and one of the few people to help her out is the handsome and charismatic High Priest, Logan.
While her heart sings for Logan, there are evil chants being created that will endanger the entire town and the dead aren't any safer. It seems the only thing to stop this evil madness is the powers that Aggie possess, the light and force of the sun. Time is running out to save the town, friendly or not and it all rests on Aggie's shoulders? Should she stay or cut bait and run?
Witch's Cursed Cabin
by Marsha A. Moore has an ominous plot, but her delivery of this tale is anything but dark and eerie. Ms. Moore actually puts the ugliness into the background as she focuses on the positive attributes of her main characters. In a world full of dark characters, questionable heroes and magic of all kinds, Marsha A. Moore brings her witches to life and paints them as "regular" people with special gifts, as opposed to the nasty versions we have come to know. A wonderfully magical tale that won't keep you up at night, wondering if your nosey neighbor across the street is brewing something with eye of newt in her kitchen. Ms. Moore is a refreshing talent in the paranormal world!
I received this copy from Marsha A. Moore in exchange for my honest review.