by O.L. Eggert
My rating: 4 stars
Series: Vincent - Book 1
Publisher: O. L. Eggert (June 1, 2016)
Publication Date: June 1, 2016
Genre: NA Dark Fantasy
Print Length: 370 pages
Vincent Li always assumed he'd die in Oakwood. If the local gangs didn't get him, then cigarettes and alcohol eventually would.

Now, he's pretty sure minotaurs will kill him instead, and if not them, the ghouls dragging people into the dark will.

In the wake of an unexplained spike in homicides, a masked figure opens portals to another world—a world filled with dangerous magic and mythological monsters. Creatures that shouldn't exist suddenly do, and they don't mix well with humans. Vincent is trapped in Oakwood as the city is torn apart, but he's no stranger to violence and will do whatever it takes to survive.
Vincent, Survivor

(Vincent Series, #1) by O.L. Eggert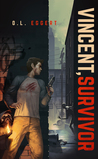 Vincent is NOT your stereotypical, alpha survivor with amazing skills, he is one of the millions of regular people in bad circumstances in the world who does little to help remove himself from those circumstances. Sure, he tries to keep his head down and go unnoticed in the bad neighborhood he lives in, that and Grandma, the coarse shop owner is pretty much all that keeps him from being mugged, or worse. Then it happened, his reality, as bleak as it was shattered the day the minotaurs invaded and started their mass slaughter of humanity.
Yes, I said minotaurs, nasty beasts with a thirst for death who came through a portal from another dimension, but how? Not creepy enough? How about ghouls, the flesh-eating kind? The only good thing to come through this tear in the fabric of dimensions is a wizard named Flea, who just happens to look like a chubby, pug-faced dog with the best dialogue ever!
Follow Vincent, Flea, and his merry band of misfits as they struggle to stay one step ahead of death in a world gone mad, battling the bad guys, from all directions while still making time to have comedic moments and to find out that one of their group is the only one who can save the world. Definitely a scary thought!
Vincent, Survivor
is NOT your typical apocalyptic read! Author O.L. Eggert is here to entertain, to provide an escape form the world and he does it with humor, heart and his own quirky style of creating a world that is at once terrifying, and deadly. His heroes are far from the norm, they are a ragtag group of misfits who complement each other perfectly. I felt tension, I laughed, I felt sad, I was shocked, and I was definitely on board for this one! Take a trip with Vincent, Flea, Grandma and the rest, trust me, you are in for a surprise!
I received this copy from O.L. Eggert in exchange for my honest review.