by Jennifer Snow
My rating: 5 stars
Series: Colorado Ice - Book 2
Publisher: Forever (November 29, 2016)
Publication Date: November 29, 2016
Genre: Contemporary Romance
Starting over means a second chance . . .

Abigail Jansen is done with hockey . . . and hockey players. After leaving her two-timing NHL-star husband, Abby decides to start over in her hometown of Glenwood Falls, Colorado. There she doesn't have to deal with people gossiping behind her back or hear the word "hockey"---until her daughter tries out for the junior hockey team. Now Abby has to face her fears . . . and coach Jackson Westmore. He's tall, dark, handsome---and happens to hate her.

All through high school, talented hockey player Jackson Westmore had a crush on Abby, but he would never make a move on his best friend's girl. He gave her the cold shoulder out of self-preservation and worked out his frustrations on the ice. So when Abby returns, newly divorced and still sexy as hell, Jackson knows he's in trouble. Now even the best defensive skills might not keep him from losing his heart . . .
Maybe This Time

by Jennifer Snow (Colorado Ice, #2)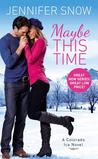 She came back home to heal when she divorced her hockey star husband. What she didn't plan on was her young daughter wanting to follow in her father's skates and play on a junior co-ed league. As if the constant reminder of hockey and her past wasn't enough, the coach was her ex's best friend and they mixed like oil and water.
Abigail and Jackson each had their own reasons for not getting along when she was dating her ex in high school. Little did Abby know Jackson had wanted her then and still wants her now. Abby has one rule, she will never fall for a hockey player again. Well, you know what they say about rules, they are meant to be broken, but Abby's fear of another broken heart is worse than being slammed into the boards.
Jackson didn't make the big leagues like his friends and brothers so sharing his love of the game with kids was as close as he will get to the feel of the rush of speeding down the ice to the shouts of the crowd. As their hearts face off, can they finally admit what they want?
Get ready to rumble! Jennifer Snow's
Maybe This Time
is low on angst and high on fun reading! Ms. Snow has scored a hat trick with fabulous characters, humor and heart and a second chance at love for two deserving people! I guess all that's left to say is She shoots! She Scores! (Another fabulous romance!)