Cherish her: Laws of Seduction 4
by Ava Hayworth
My rating: 5 stars
Series: Laws of Seduction - Book 4
Publisher: Ava Hayworth (July 6, 2016)
Publication Date: July 6, 2016
Genre: Romantic Erotica | Suspense
Print Length: 112 pages
Read the exciting conclusion to the story of James and Lainey.
Contemporary romance writer, Ava Hayworth, pulls out all the stops in this breathtaking saga.
I understand that James wants to protect me and keep me safe, but he goes about it the wrong way. I can't live a life where the man I love shuts me out. I long for James to share his problems with me so that we can work together as a team. Will he ever learn that he can trust me?
Cherish her

by Ava Hayworth (Laws of Seduction #4)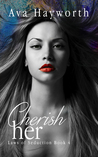 Lainey is being smothered and trapped by James' attempts to keep her safe, while being kept out of the loop on what is going on around her. He means well, but his skewed version of life and love coupled with his own issues are making it impossible for him to give her the one thing she wants, to share all aspects of his life, to be trusted enough to know his darkest secrets, his ow problems.
The more upset or angry James is, the more feral their lovemaking becomes, but she refuses to be his outlet or his receptacle for his frustrations and knuckle-dragging possession. There is a fine line between complete intimacy and an abusive relationship where anger fires sex in its most raw form.
Will James finally learn to trust in both himself and Lainey? Will he learn to give and take willingly from the woman he loves? Will Lainey learn to look for his attempts and stop needing to prove her strength?
CHERISH HER
is the sizzling conclusion of the saga of two people, caught up in a whirlwind of jealousy, deceit, and the dangers of those who would deny their love. Ava Hayworth has done a brilliant job of telling a no holds barred romantic tale of two people who find their missing half and struggle to create the perfect fit without losing who they are. Intense romance, high powered steam and over the top conflict brings this series into the station, concluding a series that showcases the author's ability to create thoroughly magnetic reading with characters that are not perfect, not always healthy in their actions, but are desperate to never feel alone, again.
I received this copy from Ava Hayworth in exchange for my honest review.