by Christine Bell, Abigail Owen & MORE Fabulous Authors!
Publication Date: November 14, 2016
Self-Published
Genre: Holiday Romance Anthology
Available from: Amazon
10 New York Times, USA Today, and International bestsellers have teamed up to bring a little heat to the winter holidays. Billionaires, Brother's Best Friends, and Old Boyfriends abound in this treasure trove of contemporary romance tales, and whether these couples are snowbound or spending the holiday in the sun, there's one thing they all agree on--there's no place like home for the holidays.

Inside, you can expect to find the following holiday stories:

Switchblade by Christine Bell
Wild Irish Christmas by Mari Carr
A Christmas Caroline by Allison Gatta
Sanctuary with the Cowboy by MJ Fredrick
A Liberty Christmas by Leigh James
Candy Cane Lane by Maggie Marr
Getting in the Spirit by Erin Nicholas
Don't Open Until Christmas by Abigail Owens
Holiday with a Billionaire by Mandy Rosko
The Dog Who Stole Christmas by Amie Stuart
Home for the Holidays by Abigail Owen and More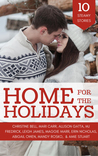 Listen up, HOLIDAY JUNKIES! You know who you are, we have hit the jackpot with a ten story anthology all about love during one of the most festive times of the year as ten authors play Santa's helper and gift us with hours of reading all under one cover! From full length tales to brief morsels that will melt your heart, feel free to give yourself the gift of wonderful reading.
First up is Christine Bell's
SWITCHBLADE
. Kaitlin was back in town, and temporarily living next the Blade boys again, but they aren't little boys anymore. Seeing Rick again was great, but having to deal with his arrogant and drool-worthy twin, Michael was driving her nuts. Heck she couldn't even give him a piece of her mind without looking like a fool! Never mind when she played at being a femme fatale and threw herself at him, by mistake. That mistake was the best thing she could have accidentally made! Sweet, humorous, hot and fun, Christine Bell gives the Holiday season some added sparkle and joy!
Mari Carr's
WILD IRISH CHRISTMAS
proves that the Irish really do know how to celebrate the love and joy of the season as Patrick gathers his seven grown children and recounts the memories of the love he shared with their amazing mother. Grab a tissue, this walk down Memory Lane is filled with the love of two people and the memories they created through the years, even as one of them has passed beyond the veil, holding out her hand for the rest of family when their time comes.
Allison Gatta's
A CHRISTMAS CAROLINE
Eric is a powerful CEO with a lot on his mind, playing the role of Scrooge on Christmas Eve, lost in a huge business deal, he is difficult, overbearing and just nasty, but he is also lonely. When he received a call from his ex-partner's sister, the Christmas spirit may just be re-kindled in the most unexpected way! What he will learn on that Christmas Eve would be the important lesson ever, even more important than the business deal he thought would change his life.
SANCTUARY WITH THE COWBOY
by MJ Fredrick proves that sanctuary and a safe haven can be found in the arms of the past you left behind. Aubrey is back on the ranch, on leave after an on the job shooting incident went wrong, so very wrong. She isn't dealing well with what happened and it seems she is g herself looking through the bottom of an empty glass a little too much. When Erich comes back into her life, he is determined to find the woman he loved who is now hiding in a bottle instead of facing her demons and moving on. When she discovers she is now a target for revenge, there is only one place to go, and it is in the sanctuary of the arms of the man she left behind. Clearly love is stronger than bullets, more enduring and for these two, it is a fresh start at happiness.
A LIBERTY CHRISTMAS
by Leigh James is a tale filled with sweet and spicy romance as two people find love amidst the excitement of the Holiday Season! Sean and Charlotte give us romance, as only two completely likable characters can with the help of Leigh James.
CANDY CANE LANE
by Maggie Marr, what could sound more sweetly festive than a tale from Candy Cane Lane, but are things all sugar plums and spun sugar? Sometimes there can be too much Holiday spirit, too many choreographed Holiday "must dos," but when it brings two young lovers back together after life has sent them down completely different paths, all can be forgiven.
Erin Nicholas'
GETTING IN THE SPIRIT
is up next. A hard-partying playboy, Levi's accident has made him see the light and he has found that leaving the glitz of Las Vegas and returning to Sapphire Falls may be just what he needs after his near death experience. His brother has even set him up with a sweet country girl for the big town dance. Kate is in Sapphire Falls to celebrate Christmas with her friends, ready to enjoy the charms of a country boy at the big dance. Will Kate and Levi find that life in the fast lane is not all it's cracked up to be and maybe savoring the glow and warmth of a small town may be just what life is all about. Don't think there won't be bumps on the way to love, but if the simple life is better, then sharing feelings between two hearts can be perfection.
Abigail Owen's
DON'T OPEN UNTIL CHRISTMAS
captures the excitement of the season, the reunion of two old friends who lost what they once had and a chance to get it all back with so much more. Only Fate knows when the time is right to bring two souls together in love and their less than glorious meeting is only the beginning of better things to come.
Sometimes the very best things in life are the things that you never noticed have been there all along. Even big boys can act out in the worse way when the girl they love can't see them standing right there with their hearts in their hands. Ryan used to be Ashley's best friend until she fell in love with Eric. For nine long years she tried to be everything Eric wanted, and it just brought out the nasty side of Ryan's bruised ego. Then Eric left her for her twin sister and with their wedding coming up, running into Ryan again is a painful reminder of all she had lost. Now Ashley is back in town and Ryan can't help but think of what might have been if she had just fallen in love with him.
Cute, humorous and endearing, this is love story didn't even need Mistletoe to encourage the magic of love!
HOLIDAY WITH A BILLIONAIRE
by Mandy Rosko proves that there is room for one more hot tale about a billionaire's world, ala Holiday style, which means nothing without family love to share and a whole lot of naughtiness just for fun. It was two days past Christmas and Isla was waiting for Arturo and his brothers to share their first family Christmas together in years. But the snow is coming down and threatens Isla's plans, until Arturo gives her some sexy and spicy times through texts. Nothing like naughty thoughts that would make Santa blush, even after Christmas.
THE DOG WHO STOLE CHRISTMAS
by Amie Stuart is Holiday humor at its best! Ever had one of those days when if it could go wrong, it will? Meet Matilda and Boomer, help unwrap the Secret Santa gift that will become the toy to remember as the chase is on to retrieve some dignity and a sex toy from a pesky pooch! Adorable!
So, did I have a favorite? Why yes, I did, but every story will sparkle and shine this time of year. I received this copy from Abigail Owen in exchange for my honest review.