by J.C. Kang
Publisher: Three Moons Press; 2 edition (March 2, 2016)
Publication Date: March 2, 2016
Genre: Fantasy
Print Length: 487 pages
Only the lost art of evoking magic through music can prevent Cathay from descending into chaos.

Blessed with an unrivaled voice, Kaiya dreams of a time when a song liberated enslaved humans from their orc masters. Maybe then, the imperial court would see the awkward, gangly princess as more than a singing fool.

When members of the emperor's elite spy clan uncover a brewing rebellion, the court hopes to appease the ringleader by offering Kaiya as a bride.

Obediently wedding the depraved rebel leader means giving up her music. Confronting him with the growing power of her voice could kill her.


Songs of Insurrection is a re-release of The Dragon Scale Lute
Songs of Insurrection

(Daughter of the Dragon Throne #1)
by J.C. Kang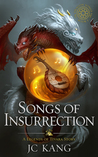 There is beauty in song. There is also magic and strength if the right songs are sung by the right voice. The realm of Cathay will need that magic to survive, but the art of the Dragon Songs has been left unsung forever, until finally, a voice of unparalleled beauty has been born and she dreams of the past and the lost songs.
Kaiya dreams of the magic of music and the powers it can hold. If she could unleash the magic, perhaps her heartbreaking existence as the forgettable princess would end forever.
With a rumored insurrection coming from powerful enemies, young Kaiya is offered as the sacrificial bride, but marrying the brutal warlord would quench her fire for music and kill her very soul as the Dragon Song would be lost forever…and she would lose her love interest, Prince Hardeep.
Will Kaiya find that magic that calls the dragons? Caught on the cusp of womanhood, this determined, yet sheltered girl will risk everything to bring the magic to life.
J.C. Kang's
SONGS OF INSURRECTION
brings Asian fantasy to life, settings of great beauty, scenes filled with dark despair and moments when young Kaiya shines brilliantly. Told in 3 POVs, this tale becomes well-rounded and for those unfamiliar with Asian culture and fantasy, we are treated to a different atmosphere, a different feel and world.
Follow the magic, the danger and witness the intertwining plight of these characters as they tell their version of the events that unfold.
J.C. Kang has a gift for writing that shines through in his debut fantasy and is certainly an author to watch as he puts his own signature and imprints his own style on this remarkable fantasy.
I received this copy from J.C. Kang in exchange for my honest review.