by Kathryn Berla
My rating: 4 stars
Publisher: Amberjack Publishing (July 11, 2017)
Publication Date: July 11, 2017
Genre: YA
Print Length: 270 pages
Every night Babe dreams of a boy she's never met before named Zat. But Zat is no ordinary daydream. He's actually a human from the distant future, who has travelled back in time to be with Babe in the only way that he can be—in her dreams. But the dreams leave Babe more and more tired and pained each morning. Zat is determined to help her, even if it means never sharing dreams with her again.
Dream Me

by Kathryn Berla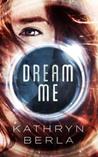 The only way he could be with her was in her dreams. Zat was from a dark, distant future Earth and in the desolation of his world, people no longer dream, yet Zat does and his dreams are filled with a long ago Earth of beauty and a girl named Babe.
Babe's dreams star a boy named Zat and every night they are together, but those dreams bring her migraines of excruciating pain. Babe finds she would rather be with Zat in a dream world than to live in reality without him. Must they choose between their special dreams and life without each other? Is there any way to bring their dreams to life?
DREAM ME
by Kathryn Berla is a completely different take on young adult fantasy, a future where Earth is destroyed, yet the technology of that time allows a person's consciousness to travel through time. What a fascinating concept that could fill pages of details and background, fleshing out this quick read with more depth.
Was the author's intent to keep Zat less defined than Babe? If so, in a unique way, it fits the story, a boy of her dreams, a love that seems impossible and a girl who is forced to live in a real world that is constantly changing for her.
Great reading for young adults who don't need the depth older readers will seek. Short chapters, and a good presentation that reads well and just may prove that dreams can come true.
I received an ARC edition from Amberjack Publishing in exchange for my honest review.