Dirty Like Brody
My Rating: 4.5 stars
Written by: Jaine Diamond
Series: Dirty
Sequence in Series: 2
Paperback: 408 pages
Publisher: DreamWarp Books
Publication Date: June 13, 2017
ISBN-10: 0994984332
ISBN-13: 978-0994984333
Genre: Contemporary Rock Romance
Amazon:
https://www.amazon.com/Dirty-Like-Bro...
He was all she ever wanted. Then she broke his heart…
As longtime manager of Dirty, the hottest rock band on the planet, gorgeous and brooding Brody Mason has had his share of beautiful women. Yet the only one he's ever wanted is the one he never had—the one who tore his heart out.
Beautiful and elusive Jessa Mayes appears to have it all. Talent, money, and a glamorous life. But she also has a secret. Six years ago, she ran away—from her dream career as a songwriter with Dirty, and the only man she's ever loved—without telling anyone why.
Now Jessa's doing the one thing she swore she'd never do. She's coming home—to be a bridesmaid in her brother's rock star wedding… and face the mistakes of her past.
It won't be easy.

Love this intense never is.
Dirty Like Brody is the second full-length novel in the Dirty series—a rockstar romance series about the members of the rock band Dirty and the women and men who love them.
Novels in the Dirty series are interconnected standalones, each with an HEA. (There are ongoing storylines that develop throughout the series, so reading them in order is not crucial but is recommended.)
Reading order:
Dirty Like Me (Dirty #1)
Dirty Like Us (Dirty #0.5) (novella)
Dirty Like Brody (Dirty #2) (less)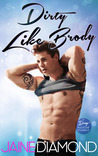 Dirty Like Brody
by Jaine Diamond
Sexy musicians, friendly banter and some strong chemistry makes
Dirty Like Brody
a 5 star read to me.
The band Dirty's manager, Brody, has a secret thing for Jessa Mayes, sister to his fellow band mate. Keeping his feelings under wraps for all these years was hard but now that he has been put in charge of Jessa's attendance and behavior at her brother's wedding…its nearly impossible.
Jessa has been running from Brody, the biggest mistake of her life, since that one day that sent her running in the first place. Now she is back to be a bride's maid in her brother's wedding and she is going toe to toe with all the wounds from her past…including Brody!
AMAZING ROCK ROMANCE! Copious amounts of meaty story and character development to back up the explosive chemistry and a marvelous supporting cast to boot!