Ride the Storm
My Rating: 5 Stars





Written by: Karen Chance
Series: Cassie Palmer
Sequence in Series: Book 8
Mass Market Paperback: 608 pages
Publisher: Berkley
Publication Date: August 1, 2017
ISBN-10: 110198998X
ISBN-13: 978-1101989982
Genre: Urban Fantasy | Paranormal Romance
Itunes:
https://itunes.apple.com/us/book/ride...
Amazon:
https://www.amazon.com/Storm-Cassie-P...
Barnes & Noble:
https://www.barnesandnoble.com/w/ride...
The New York Times bestselling author of Reap the Wind returns to the "fascinating world"* of Cassie Palmer.
Ever since getting appointed the chief seer of the supernatural world, Cassie Palmer has been playing catch up. Catch up on the training she missed being raised by a psychotic vampire instead of at the pythian court. Catch up on the dangerous world of supernatural politics. Catch up on the powerful, and sometimes seductive, forces trying to mold her to their will. It's been a trial by fire that has left her burned.
But now she realizes all that was just the warm up.
Ancient forces that once terrorized the world want to return, and Cassie is the only one who can stop them.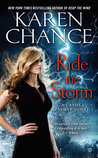 Ride the Storm
by Karen Chance
Ride the Storm
is a thrill ride you don't want to get off.
Cassie is coming into her own. Dealing with her new position and the pythian court, so for her and some against her. Machintions abound, each group striving for supremacy even when an ancient evil is hanging over their heads.
There are a few plot lines that need to be tied up, how long can the cliffhanger continue.
Chance's imagination boggles my mind; her world building is amazing; and her ability to write characters with heart makes the utterly fictional world completely suck you in. I'm hanging by a thread, waiting for the next Palmer adventure.
I received this ARC copy of
Ride the Storm
from Berkley Publishing Group - Berkley. This is my voluntary and honest review.
Ride the Storm
is set for publication August 1, 2017.