by Marilyn Jeulin
Publisher: Marilyn Jeulin; 1 edition (August 8, 2017)
Publication Date: August 8, 2017
Genre: Contemporary Women's Fiction
Print Length: 240 pages
Turning the big 3-0 isn't easy. It's even more difficult when well-meaning friends decide you need to stop being single and find your Prince Charming. Add in a series of never-ending bad blind dates and this is all too familiar territory for Gracie Marquez.

What Gracie's friends don't know is that she's been in a nine year "friends with benefits" relationship with her best friend, the dashing Henry Huntingdon the third. The pressure of turning another year older has Gracie questioning the nature of their relationship. Emotions run high and jealousy threatens to tear them apart. Has Gracie's Prince Charming been in front of her eyes or has Henry been keeping her from finding true love?
Henry and Gracie

by Marilyn Jeulin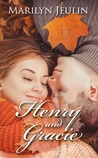 Marilyn Jeulin certainly has taken a "friends with benefits" tale to another level! Imagine two single people, best friends, able to talk about everything and anything, who manage to maintain their relationship for a decade, enjoying the best no strings attached sex, not to mention the same social life that couples do. It all started with a one night stand...and a warning to avoid the playboy.
The problem, you ask? It could be that both Gracie and the dashing Henry Huntington III are avoiding the truth as easily as they avoid meaningful relationships. Sure, they both date, they even have brief affairs, but always, they each find a safe place to land in each other's arms.
No matter how many blind dates her friends set up for Gracie, no one catches her interest, but as she turns the big three-oh, life begins to look a little different and her resolve is crumbling, just maybe she needs more from Henry than she has. Maybe it is time to cut loose from his grasp and look for someone to make a real life with. Too bad Henry is too busy being a lady's man and running from commitment, or is he?
With almost a dreamlike quality, we live through the decade since Henry first swept Gracie off for passionate, no strings attached sex. We watch them provide each other with more than just superficial relationship, giving support and understanding and even space when it is needed. Not a fast read, but certainly one to savor and examine, which is what I did as Marilyn Jeulin's characters come to life and their relationship lasts through thick and thin, well, until the jealousy crept in… maybe being independent does not mean being alone…when is it time to move on?
I received an ARC edition from Marilyn Jeulin in exchange for my honest review.