by Gerardo Delgadillo
Publisher: Whole Enchilada Press (June 20, 2016)
Publication Date: June 20, 2016
Genre: YA Fiction
Print Length: 318 pages
After his crush rejects him, seventeen-year-old Colton catches a plane to Mexico, hoping to forget all about girls. But a night out at a dance club crowded with long legs in miniskirts doesn't help, especially when he meets the club's beautiful DJ, Alex.

In awe of her mixing skills, Colton finds it hard to believe Alex is deaf. As they bond, she asks him to help her win a DJ contest behind her rich, estranged father's back.

Colton's not a wimp or anything, but millionaires with armed bodyguards are not his ideal vacation buddies. The only problem—if he helps her, he may fly back home in a body bag.
Summerlypse

by Gerardo Delgadillo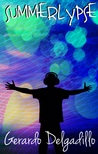 Who knew when Colton hopped that plane for a vacation to Mexico with his best friend's family that he would discover young love and a dangerous mission to do the right thing to help a beautiful DJ break out from under her controlling father's thumb?
Alex had captured his eye from the moment he met her and his heart as he watched her work her magic mixing the music all while being deaf. How could he not help her win a DJ music contest to win the money to help restore her hearing? Determined to be independent of her father, she places Colton in danger as hired goons stalk their every move.
SUMMERLYPSE
Gerardo Delgadillo is a quirky, rapidfire tale that takes us south of the border and into the hurricane of thoughts that fill Colton's mind as we truly learn what it is like to be an insecure teen in a world he isn't quite ready for. Imaginative, heart-warming and certainly a coming of age tale, Gerardo Delgadillo peppers his dialogue with two languages, allowing us to actually feel and breathe what young Colton is experiencing!
Colton's personality is deep, his dialogue is priceless and his attitude runs the gamut from insecurity to determined with a huge dollop of bravery, whether feigned or real! I loved Alex's strength, she was a young woman on a mission, and nothing would stop her, not even her powerful father who seemed to cow everyone he met, or maybe that was just his entourage of gun-toting goons!
A fun and uniquely chaotic read that is sure to entertain while weaving two cultures together into a tapestry of youthful adventure, young love and coming of age! Highly recommended for YA readers, probably the only readers who won't need a nap after this exciting journey!
I received this copy from Gerardo Delgadillo!