Goddess of Forgetfulness (Immortal Matchmakers, Inc. Book #4) Mimi Jean Pamfiloff NOW AVAILABLE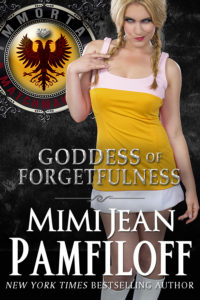 Synopsis:
From New York Times Bestseller, Mimi Jean Pamfiloff
Book #4, the Immortal Matchmakers, Inc. Series
(Standalone)
"FORGET ME! PLEASE!"
The Goddess of Forgetfulness has spent seventy thousand years wishing for a man to remember her for more than five seconds. But when her wish is finally granted, she's appalled. Távas is cocky, handsome, and seven feet of
rude
muscled man. He can't possibly be her mate! But all signs are pointing to yes. Okay, at least a strong maybe. Is this some sort of cosmic dating error? She darn well hopes so. Determined to discover the truth, she agrees to one date. Just one! But the night is about to reveal that his real identity is crazier and more alluring than she ever imagined.
BUY LINKS
**FREEBIE ALERT!** Does everyone know that BOOK #1 of IMMORTAL MATCHMAKERS is FREE right now? Or, if you're looking to get caught up on the series...NEW BUNDLE! BUNDLE - $6.99 KINDLE:
http://smarturl.it/8k9ktu
iBOOKS:
http://smarturl.it/7tlq03
KOBO:
http://smarturl.it/ilb6y4
NOOK:
http://smarturl.it/ii8c09
*FREE!* IMMORTAL MATCHMAKERS, INC. KINDLE:
http://smarturl.it/3qyto3
iBOOKS:
http://apple.co/1Jq3i2X
KOBO:
http://bit.ly/1V354PR
NOOK:
http://bit.ly/1JKdY2P
About the Author
MIMI JEAN PAMFILOFF is a USA Today and New York Times bestselling romance author. Although she obtained her MBA and worked for more than fifteen years in the corporate world, she believes that it's never too late to come out of the romance closet and follow your dream. Mimi lives with her Latin Lover hubby, two pirates-in-training (their boys), and the rat terrier duo, Snowflake and Mini Me, in Arizona. She hopes to make you laugh when you need it most and continues to pray daily that leather pants will make a big comeback for men
Sign up for Mimi's mailing list for giveaways and new release news!
GIVEAWAY